Celebrate the 4th of July with fireworks, fun and friends thanks to the City of Centralia and Bethel Church. Summerfest is back, and this year it's all about saluting those who serve! While the parade isn't happening in historic downtown Centralia in 2021, there's plenty of fun to be found at Borst Park on Sunday, July 4.
Can't find parking? A complimentary shuttle service is provided between Centralia High School and Borst Park from 9 a.m. until 2 p.m.
Starting at 10 a.m. is the 4th of July ceremony honoring veterans and law enforcement employees. Help salute those who serve at the south stage until 11 a.m.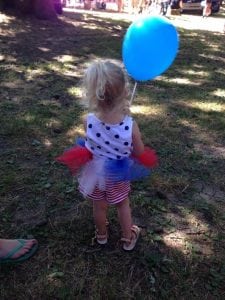 Then, grab a free lunch from 11 a.m. to 1 p.m. at shelter #1. Choose from a hotdog provided by Sierra Pacific or a pulled pork sandwich from Bonanza BBQ. Save room for ice cream donated by Reichert's Distributing. Catch live music from the Voetberg Family and Edgewater Trio Band.
Decorate your bike for the exciting Patriotic Bike Parade at noon. Staging starts at 11:30 a.m. at the Little League Field #2 parking lot.
From 10 a.m. to 2 p.m., don't miss the historic vehicle displays. Find historic military automobiles, including a 32-foot Vietnam-era riverboat, antique fire trucks, and plenty of cool classic cars.
Be sure to stick around for the main event — fireworks! Sponsored by Uncle Ando's Wurld of Weed, the exciting show starts around 10 p.m.