Wedding bells will be ringing this season…and ringing, and ringing, and ringing! Perhaps to make up for the past year and a half when they fell silent. Caterers, venues, planners and everyone involved in helping those saying, "I do" are already experiencing an uptick in business and are bracing for some of their busiest seasons ever. Well-seasoned veterans, Bayview Catering of Olympia, are ready for the rush, as they have been satiating the bellies of the bride, groom and all of their guests for the past 40 years.
Kelly Young, head of Bayview Catering and a Storman's employee for over 25 years, says they've been flooded with calls for wedding catering, graduations, and celebrations of life because people had to postpone those things all last year. "They should get their orders in early!" she adds.
Full-Service Catering
Bayview Catering offers full-service catering, meaning they will deliver the food to your venue in Thurston County and surrounding areas, along with setting up, cleaning up and even serving the food. There are also add-ons like cake cutting and champagne service that make your special day stress-free and one to remember. Kelly says they can work with your budget and come up with a plan that marries their services to your event perfectly.
In the initial planning stages, Bayview Catering offers a complimentary consultation, and their planner can advise on topics such as recommended venues, equipment, food, beverages, entertainment, music, budgeting, invitations/advertising, parking/access, guest registration and lodging.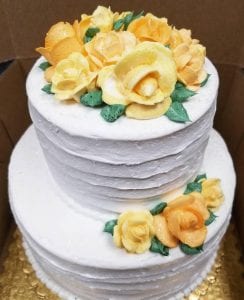 Linens and equipment/decorations are not included in the food packages, but Bayview Catering recommends that you contact Celebrations: The Party Store for all of your event rental needs. Celebrations is South Sound's premier event and party rental store and has been locally owned by the Storman's family for four decades. For more info on Celebrations, check out this ThurstonTalk article about them.
Menus
It is a tradition that wedding guests share some sort of meal in celebration with the newly wedded, and Bayview Catering has a couple of different options to choose from.
The Bayview Wedding Reception package is what Kelly describes as lighter fare and complements an afternoon or earlier wedding. There are three different levels of buffet-style foods to choose from: Primo, Special, and Deluxe. They all feature assorted meats and sliced cheese, assorted cocktail rolls and breads, sliced red potato salad, gourmet pasta salad, fresh vegetables with ranch dip, and fresh, sliced seasonal fruits.
Depending on your package, choose from two or more proteins from delicious cocktail meatballs, mini quiches, teriyaki chicken skewers, chicken drumettes, pork riblets, deviled eggs, smoked salmon pate with crackers or cold poached salmon.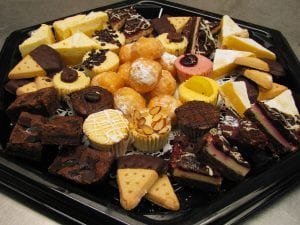 The Bride's Choice package is more of a full meal dinner and works great for evening weddings when all of the guests sit down and share the dinnertime meal together. This package allows for discerning palates to select two of five proteins: grilled boneless chicken breast, baked salmon fillet, pork loin, turkey breast or beef sirloin. Additionally, three side dishes are included and can be selected from a list of nine scrumptious options like roasted baby potatoes, herb roasted red potatoes, rice pilaf, gourmet pasta salad, red potato salad, Caesar salad, green salad, fresh seasonal fruits and steamed or raw veggies.
The meals also include rustic breads, garlic bread, or freshly baked rolls and butter. In addition, Bayview Catering can also cater to special dietary needs, and Kelly is just a phone call away from getting the table set for the big day.
Rave Reviews
Bayview Catering gets 5-Stars on Google, and you can read what others have said about them on their website. But it's this review on The Knot, a popular wedding website, that so eloquently states all of the things Bayview Catering is known for:
"Our wants were definitely heard and respected, and we were offered advice and options about those details that we were unsure about. Can't say enough about their customer service! On the day of…the staff who worked our reception were prompt, organized, cheerful, and so very welcoming to our guests. What I appreciated most was the extra effort they went to during the clean-up (because I was exhausted by the end of the night). We had rented plates, flatware, etc from Celebrations in Olympia. I thought I would have to rinse everything and prepare it for pick up, but the Bayview staff swooped in and did it all! After-reception clean-up was completed in under an hour (and that includes taking down all decorations, linens, room reorganization, etc). And the food… Delish!!! And attractively presented. We couldn't have been more pleased."
So, whether you're ringing a wedding bell this year, or a dinner bell for a long-awaited get-together, let Bayview Catering do the cooking and you do the enjoying. After all, it's been a long year…
Located inside Bayview Thriftway
516 West Fourth Avenue, Olympia
planner@bayviewcatering.com
Submit your inquiry via this form.
Sponsored