From fireworks to the delicious smells of barbecue wafting through the air, July 4 fills Centralia, Chehalis, and surrounding Lewis County cities with pomp and circumstance unmatched by few other holidays. While many people celebrated at home last year, 2021 Independence Day is a time to enjoy community events. Centralia, Chehalis, and Lewis County offer several fun events to celebrate the 4th of July, from fireworks to food and more.
Centralia Summerfest
Celebrate the 4th of July thanks to the City of Centralia and Bethel Church. Summerfest is back, and this year it's all about saluting those who serve! While the parade isn't happening in historic downtown Centralia in 2021, there's plenty of fun to be found at Borst Park on Sunday, July 4.
Can't find parking? A complimentary shuttle service is provided between Centralia High School and Borst Park from 9 a.m. until 2 p.m.
Start the day off with a fun "I Ran from the Cops" Run/Walk & SWAT Team Challenge. The run starts at 8 a.m., and the SWAT challenge starts at 8:30 a.m. Register in advance at the Centralia Police Department or on the day of the event beginning at 7 a.m. near Dick Scott Little League field. The participation fee is still being determined but includes a T-shirt.
Starting at 10 a.m. is the 4th of July ceremony honoring veterans and law enforcement employees. Help salute those who serve at the south stage until 11 a.m.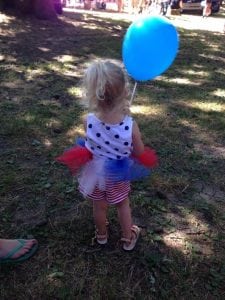 Then, grab a free lunch from 11 a.m. to 1 p.m. at shelter #1. Choose from a hotdog provided by Sierra Pacific or a pulled pork sandwich from Bonanza BBQ. Save room for ice cream donated by Reichert's Distributing. Catch live music from the Voetberg Family and Edgewater Trio Band.
Decorate your bike for the exciting Patriotic Bike Parade at noon. Staging starts at 11:30 a.m. at the Little League Field #2 parking lot.
From 10 a.m. to 2 p.m., don't miss the historic vehicle displays. Find historic military automobiles, including a 32-foot Vietnam-era riverboat, antique fire trucks, and plenty of cool classic cars.
Be sure to stick around for the main event — fireworks! Sponsored by Uncle Ando's Wurld of Weed, the exciting show starts around 10 p.m.
Chehalis Veterans Memorial Museum
See what life was like in 1776 with the Veterans Memorial Museum's Spirit of 76′ Revolutionary War Encampment on July 3. Living historians will give presentations throughout the day from 9 a.m. until 4 p.m. featuring Fife and Drum Corps, Militia Infantry Drill, Militia Artillery Drill, the Philadelphia Ladies Association and Naval displays. The kids will love the period children's games, and all ages will enjoy the patriotic music performance.
Mossyrock Freedom Festival
Join Mossyrock's Freedom Festival! On Saturday, July 3 and Sunday, July 4, find two days of fun with events from morning to night.
On Saturday at 7 a.m., start off with a yummy blueberry pancake breakfast from Mossyrock Assembly of God Church. At 8 a.m., the food and craft vendors open at Klickitat City Park. Don't miss the quilt show from 10 a.m. to 4 p.m. Looking for a parade this year? Mossyrock is the place to be on Independence Day, with the parade starting at 10 a.m.
Head back to the park for a dog show at 1 p.m., and at 2 p.m. is the always-exciting car show. Stick around for the popular band Sucker Punched taking the stage at 4 p.m. At 5 p.m., there is a magic show followed by more live music.
On Sunday, find Tim Weible parachuting into the park at 12:30 p.m. At 1 p.m. is the Flag Ceremony with the VFW honor guard and instructions on correctly handling a flag. Then, check out the car show if you missed it and find more magic on the stage. From 5 to 9:30 p.m. is an array of live music followed by the fireworks show around 9:45 p.m.
Both days find a beer garden for the adults over 21. Magician Tim Flynn will share his talents with fun table shows, and kids will love the bouncy houses and games.
Ryderwood 4th of July Celebration
Head out to Ryderwood for some hometown fun with their 4th of July celebration. It will be a grand time for the whole family starting at 10 a.m. with vendors, food, and maybe some music too. The kiddos will love the games, including a watermelon eating contest and penny scramble. Since the holiday is a Sunday, folks are invited to the Ryderwood Community Church for service from 10:45 a.m. until noon. At 1 p.m. is the Independence Day parade. Then, at 2 p.m., bring the family and a main dish or dessert to Ryderwood Park for a community potluck. For fireworks, Vader is the place to be after dark.
Pe Ell 4th of July Fireworks
Head west and find more 4th of July parade action with Pe Ell's annual grand procession. Participants can register at local businesses. Line-up starts at 10 a.m. and the parade begins at noon. There are also plans for a firework show after dark. Stay tuned for more updates on their Facebook page.
Packwood's Fireworks in the Sky
July 3 and 4 in Packwood is sure to be fun and festive thanks to Packwood Improvement Club. On July 3 enjoy Fireside Music in the Park with Bryson Evans from 6-8 p.m. at the Packwood Community Park. After the music, don't miss the fireworks in front of the Packwood Community Hall and Fire Department starting at dark. People are free to park in both parking lots and should be cautious to avoid parking on the highway. On Sunday, July 4 from 11 a.m. to 2:00 p.m., get your grub on with the annual chicken BBQ at the Community Hall Park. Adults are $10 and kids 12 and under are $6.
Randle Big Bottom Blast
Hosted by Randle Firefighters' Association, celebrate Independence Day with the Big Bottom Blast. The details of the event are still in the planning stages but what is known is visitors are invited to enjoy the flea market at the fire station Friday through Monday. There is possibly going to be a breakfast Saturday and Sunday. What is for sure is the fireworks show on July 3.
While our state is supposed to open on June 30 fully, be sure to check back with all event organizers for any up-to-date changes as we get closer to the holiday. Happy Independence Day!