President Nixon signed a law in 1972 making Father's Day a permanent national holiday, celebrated every third Sunday in June. This year, Father's Day is June 20 so, celebrate dad with one (or more) of these fun things to do with dad for Father's Day in Lewis County.
Ride the Rails
For an unforgettable Father's Day, don't miss the Chehalis-Centralia Railroad & Museum's Father's Day Dinner Train Ride. Climb aboard the USN Diesel #6 in the 1920s vintage diner car and travel along the picturesque Chehalis River Valley. With pastoral lands, mountain and river views, all ages will enjoy this experience. Seating is available both indoors and outdoors on the various time slots open all weekend. For the ultimate occasion, book the two-hour 5 p.m. Dinner Train Riverview Excursion featuring a choice of pulled pork and chicken, BBQ ribs or BBQ chicken with salad, sides and dessert. Beer and wine options are also available for purchase.
Need for Speed
With over 50 years of exciting races, dad will love an evening at South Sound Speedway. On Saturday, June 19, watch Super Late Models Twin 50s, Legends Twin 30s and Hobby Stocks Twin 30s on the track. Racing starts at 6:30 p.m., and the gates open at 4:45 p.m. There are plenty of great seats, but tickets are cash only. Give dad a special night to remember with one of South Sound Speedway's 16 VIP skyboxes. They sell out fast, so call 360.858.1464 to reserve ahead of time.
Dads Love Dinner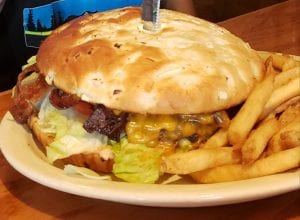 Dudes of all ages can't resist a mouthwatering burger, so treat dad and the whole family to Ramblin Jack's Rib Eye. For the ultimate eater, order the Cattle Drive Burger complete with three 6-ounce patties and all the trimmings. For a challenge like no other, add the one-pound cinnamon roll and see if dad can get his name on the wall for the Mike Fourtner Cattle Drive Challenge.
Grill Up Some Grub
Want to treat dad to dinner at home? Fire up the grill for a backyard BBQ everyone will love. There's nothing like a meal cooked outdoors! After feeding dad his favorite foods, have fun together with yard games like cornhole, horseshoes or a game of catch. Perhaps there's an outdoor project dad needs help with? Get the gloves and tools out and give him a hand. Have fun as a family, and dad is sure to appreciate the time spent on something he enjoys at home.
Go Golfing
Lewis County offers several options for the golfing guru in your life. Dad will love a tee time at Riverside Golf Club with their expansive greens. Family-friendly Newaukum Golf features 27 holes suitable for all levels of skill and experience.
Let Dad be a Kid Again
Shankz 3D Black Light Mini Golf not only offers an alternative to traditional golfing with their super cool 18-hole black light mini golf, but they also offer fun not found anywhere else in the area. Book an escape room for dad, and after the family finds their way out of the dinosaur research facility, play some of the classic arcade games or try a tasty unicorn taco.
Fishing, Hunting and More
Fathers in Lewis County are often the hunting and fishing type. So, don't miss the Wes Knodel Gun & Knife Show at Southwest Washington Fairgrounds. On June 19 and 20, explore products including guns, parts and accessories, knives, military and war relics, home defense and security items, books, knife sharpening, and more.
Get Outside
In 2021, Father's Day is on Sunday, June 20, which also happens to be the same day as the summer solstice. It's the perfect time to kick off the summer season with a camping trip, beach day, or family hike. Find a dad's day adventure with six stunning waterfalls in Lewis County. On Saturday, June 19 Washington State Park announced an additional free day, when the Discover Pass will not be required to visit a state park or lands managed by the Washington State Department of Natural Resources and Washington Department of Fish and Wildlife.
Give a Gift
Want to treat dad to a special gift he will enjoy? Skip the World's Greatest Dad coffee mug or typical tie and go for something great. Perhaps dad likes to tinker? Find tools of all trades at Anderson's True Value in Centralia. Is dad an outdoor enthusiast? Sunbird Shopping Center is chock full of camping, hunting, and outdoor gear. Does he love to read? Give him a gift certificate or book from Shakespeare and Co. or Book 'N' Brush. Dapper dads would enjoy a new outfit from Bartels, and they have everything from suits to athletic gear. Replace his worn-out shoes with new kicks from Brunswig's.
Treat Dad
Fathers enjoy a little pampering too. Give your favorite dad, grandpa, or uncle a luxurious hot towel shave from Chehalis Barber & Company. Dads often work too hard, so treat him to a massage from The Keysar Center of Massage. From deep tissue to the gentlest touch, fathers of all ages will love to relax for once with a treatment from the long-time Centralia massage center.
Honor fatherhood and the paternal bonds this year and let him know how much he means to you. Treat dad to fun, food and your time for a Father's Day to remember.