Infected with cabin fever, you drive the beautiful White Pass Scenic Byway. About four miles east of Randle, a beautiful farming road appears. Turning left onto Silverbrook Road and spying a pullout next to the stop sign, you park. Walking to the first turn and crossing the road, you spot a faint trail through a gap in the bushes. Beyond the thicket, find yourself instantly in a deep forest. When the trail leads to a Y, go right, and you'll hear as water pounds in the distance. A toppled ancient iron weir appears by the side of the trail. Refreshing air blasts waft from the creek. Ahead, a copious waterfall fans down a steep rock staircase.

This adventure leads you to Hopkins Creek Falls, one of Lewis County's best secret waterfalls. Following the trail to the foot of the falls, the pooling water laps the boulders generously. The water roars loudest here. A tumult of troubles seems lifted from your shoulders. This is forest therapy.
Forests Heal
Waterfalls play a role in forest therapy. Shinrin-yoku is Japanese for forest bathing. Traditionally, followers of shintoism bathed in waterfalls to wash away their bad deeds. The practice is no longer popular, except among some senior practitioners. East Lewis County waterfalls might be super cold for total immersion, but you can at least soak your feet.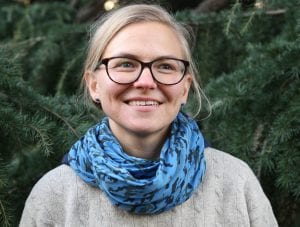 Katriina Kilpi is a Forest Mind Guide. A Forest Mind guide helps amplify the wellbeing forests give. She and Heidi Korhonen founded International Forest Therapy Days, an annual planetary forest therapy event.
"Water links us to the starting place in our life," says Kilpi. "That is why it is not surprising people all over the world prefer water features – waterfalls, ponds, rivers and lakes – in nature." Kilpi feels exploring the forest is a mind-opening exercise. "After your body has relaxed and your mind has calmed down, you start having more space in your head and become more creative," she says.
Her native forest is Finland, but she lives in Belgium. "Belgium lies in the least forested part of Europe, and Finland in the most forested," she laughs.
Forest Therapy
Trees emit Phytoncides, volatile organic compounds when pests attack them. These exist in various combinations and plentifully in the forest. Research suggests they build a human immune response by activating our white blood cells.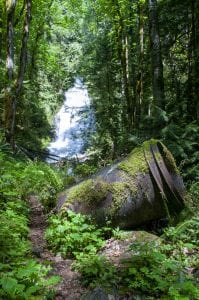 After the rain, we can smell the scent of petrichor, which is produced by the forest soil being mixed with the humid forest air. When we inhale the petrichor, it could be that we breathe in some of the forest soil bacteria which albeit the name, are also good for our immunity.
The American Association of Nature and Forest Therapy leads walks and trains forest therapy guides.
"In Finnish, we say in a beautiful landscape, your eyes rest," says Kilpi. "This means that when you look far, and not only at your screen, your eyes get to rest. The beauty of the landscape is good for the soul too."
Best Therapy Waterfalls
Yodi Falls
Yodi Falls gives mind therapy well off the beaten path. Obscure, this fall is not a US Geological Survey registered place name, but some creative individual posted a lovely sign with the name on a tree. Yodi Fall is a glorious Lewis County secret waterfall.
To get there, drive to Packwood and turn right onto Snyder Road. After 1.2 miles turn left onto Forest Service Road 022 and drive half a mile to the falls on the right.
Walking to the foot of the waterfall, notice a well-kept grave marked Reba. Surely a beloved dog or cat or in-law.
Tatoosh Trail Falls
Tatoosh Trail Falls starts in Packwood's High Valley Community. When walking on this trip, please respect the residents. The trail lies on National Forest Land. Drive through Packwood and turn left onto Skate Creek Road. Drive to Cannon Road and turn right. After 2.3 miles and turn left onto Tatoosh Trail Road. Follow this road until you encounter a closed road sign. Park in the loop turnaround but avoid blocking nearby residences.
Avoid several side trails; walk the closed road until you hear water. Cross a small creek over a bundle of logs and take the first trail left to behold the glorious grotto! Maidenhair ferns drape the rock walls and water trickles gently down the stone steps. Basalt stone benches lay all about for a foot shinrin-yoku.
More Healing Waterfalls
Camp Creek Falls
Take US Highway 12 east to Randle and turn right onto State Route 131.  After one mile, turn left on Cispus Road which becomes National Forest Road 23. Drive 8.6 miles to the Camp Creek Falls trailhead.
Grant Purcell Fall
Travel east on US Highway 12 to Packwood. Drive 6.5 miles to La Wis Wis Campground and turn left into the campground. Park at the marked trailhead parking near the picnic shelter. Walk the road for loop B, C, D, E to find the trailhead.
Silver Falls
Drive US Highway 12 to Packwood and turn left on State Route 123 and turn left. Continue five miles to Laughingwater Creek Trailhead. Take the trail and walk 500 feet to the Silver Creek Falls Loop Trail. Take the right trail. A wooden bridge crosses dramatically over a box canyon to view Silver Falls.
Explore Lewis County to find the places of peace. Find healing at Lewis County's secret waterfalls and experience the therapy of the forest and falling water right out your backdoor.