It was a fairly short trip from the bench to the locker room, but for Winlock High School boys' basketball coach Nick Bamer it took him longer than expected to cover the minimal distance.


The Cardinals had just opened its postseason with a win over Northwest Christian at the district tournament and congratulatory fans would halt Bamer seemingly every step of the way as he made his way back to join his team. It's been like this all season for the Cardinals but has certainly seen a major uptick in recent weeks.
Winning can have that effect.
"About halfway through the year, every game we played in our gym was packed. When we hosted Toutle Lake it was standing room only," Bamer said. "It's been awesome. People are coming out of the woodwork. You're starting to see a lot of old (Winlock) letterman jackets and stuff like that. The community support has been incredible."
There's a reason for all the hoopla. The Cardinals are knocking on the door of advancing to the state tournament for the first time in seven years – a fact not lost on its large senior class.
"This hasn't been done here in a while. It's been almost 10 years," said senior point guard Bryce Cline. "The seniors have talked about it a lot. We know we can do something special this season. Our focus is to get to state and just go from there."
Winlock, which finished the regular season ranked No. 4 among 2B teams in the WIAA's RPI ranking, more than looked the part of a state tournament team during its convincing 60-48 victory over Northwest Christian in the quarterfinals of the Southwest District 4 tournament at Rochester High School on February 15.
"This team has high expectations, but we talk all the time about enjoying the moment," Bamer said. "We still want to execute, but this is a once in a lifetime experience for them and we want them to enjoy it."
Cline paced the Cardinals' offense against the Wolverines, scoring 14 of his game-high 26 points in the first half to help Winlock build a 36-26 lead at the intermission. The Cardinals also received 14 points from sophomore Nolan Swofford and eight points from senior Coleson Richendollar.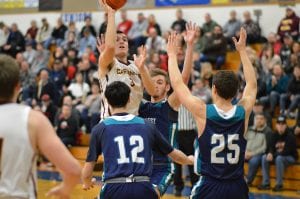 "It's a special night. We were in this situation two years ago when this group of seniors were sophomores," Bamer said. "Last year, we kind of underachieved during the regular season before making a run. This team has plenty of experience, and you need that this time of year. Experience is a big deal. You get random fans, it's a packed gym, it's loud. I was pleased with how they handled it and the experience certainly helped."
Cline and Richendollar are two of seven seniors on the veteran-heavy Cardinals' squad. They are joined by Garrett Chiechlowski, Jonathan Gonzalez, Noah Patching, Fernando Sanchez and Nathan Suhrbier.
"Freshmen year we knew we were going to be good, but we knew we had to work for it," Cline said. "We had a down season last year. This year we came out knowing we had to fight for everything since it's our last year."
Winlock improved its record to 17-4 with its victory over Northwest Christian and moved within a victory of clinching a berth into the regional round of the 2B state tournament.
The Cardinals will play 2B Pacific League champion Life Christian Academy, which defeated Onalaska, 76-58, in its quarterfinal matchup, in one semifinal game at Kelso High School on February 19. Toutle Lake and Willapa Valley will square off in the first semifinal at 6:00 p.m. with the Cardinals and Eagles (18-3) tipping off at 7:30 p.m.
"This time of year, every team is good and they all can score. So, we need to rely on our defense," Cline said. "Defense is key from here on out. If we can get stops and get into our transition game off those stops, we will be in good shape."
The winner between Winlock and Life Christian will play in the district championship game at W.F. West High School on February 22. The loser will still have a strong chance at capturing one of the district's five berths to the regional round but will have to navigate through the loser's bracket.
Winlock won its first two district playoff games last year as the Central League's No. 8, defeating Ocosta and Adna before falling in the quarterfinals to Life Christian (67-47). The Cardinals won a loser-out game against Morton-White Pass before seeing its season come to an end a victory short of regionals in a loss to Toutle Lake.
"Last year we knew we had the talent to go to state," Cline said. "We didn't live up to the hype. This year everyone is focused."