The Aldersons' devotion to local sports is what spoiled the surprise of winning Business of the Year from the Centralia-Chehalis Chamber of Commerce. "How did I know?" said Tom Alderson at the Annual Chamber Banquet on January 17. "When they asked what I was doing tonight, I said watching basketball at Centralia High School." Executive Director Alicia Bull knew that might be the case, so they let Tom know of the recognition ahead of time when they typically try to keep it a surprise.
"It was the most humble and sweet response I've ever seen in my life," said Bull. "There were a little bit of tears and I have never met a more humble and excited man. It touched my heart and it's really what it's about when you think about local business."
"They had to spill the beans," said Alderson after taking the stage. "It's not that I wouldn't want to be here and be surrounded by a group of likeminded people who understand what it's like to be in business but also what it's like to be part of a much, much greater community than those that are defined by simple boundaries."
While presenting the Business of the Year Award with Todd Chaput, President of the Chamber Board Bob Jackins echoed Alderson's sentiment about Aldersons Awards West Printwares' devotion to the entire Lewis County community. "While the business has a Centralia address, they truly don't have boundaries and offer amazing products to all of Lewis County," he said. "As a matter of fact, I can't think of any business that spends more time supporting the Centralia Tigers and W.F. West Bearcats then this one."
"We are proud to say this business is one of the original Chamber members and has been a consistent support to the local business community," Jackins added.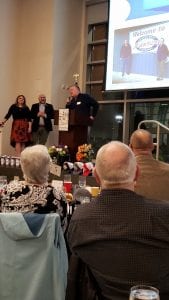 "The heart and soul of this local business circles around becoming friends with their customers and feeling grateful that they are working with our community," said Chaput. "Humble is an understatement with these business owners. Their desire to give back to the community is evident the moment you walk in the doors. You always see a fundraiser there they are supporting with the products they make and are donating the proceeds back to meaningful causes."
Describing Alderson's Awards West Printwares as the ultimate choose local business, Jackins and Chaput announced the Business of the Year to a roar of cheers and applause as the crowd rose to their feet to recognize Tom and Karen Alderson for what they do for the local community.
When Tom took the stage to accept the award, he quickly pointed out the two tables of his staff and family in attendance, naming each one. "It's certainly a team effort, I've got to tell you that," he said. "It's not just us, it's a great group of people and my wife and my son who I get to work with every day which is really special."
Alderson went on to thank the community for their business. "Besides my staff obviously our vendors who play a great role and are our big-time business partners, many of whom are local," he said. "And on top of that a great customer base we have. The people who we really just love. We've been so blessed with the absolutely nicest customers. That is not a surprise when you consider how great of an area we all get to live in."
Alderson ended his acceptance speech with a hearty "Thank you!" and left the stage to another standing ovation from the large crowd.
When Bull took the stage again, she noted how Alderson's offers something to customers that buying online can never do. "Somebody shared something on Facebook that said, "Amazon doesn't sponsor your kid's sporting teams," she said. "Guess what? Alderson's does. When you think about the ultimate choose local experience, don't buy online. This man with what he offers, the customer service, and getting it done right now when you are in a hurry, that's what buying local is about. When you do that, it comes back tenfold. Go to Alderson's Awards West. They are incredible."
Since 1972, Alderson's Awards West Printwares has provided Lewis County a wide variety of products and services to meet the imprinted product needs of businesses, schools, churches, non-profits, government entities and individuals. Since that time, a lot has changed for the business and many things have stayed the same. What certainly has never waivered is the support from others to the businesses' success, something Tom remembers fondly.
"As I reflect on this honor, there is always someone who comes to mind about the role they played in helping our business these past 30+ years or so," says Tom. "Back in 1987, Russell Moller (father-in-law of then partner Pat Swanson) acted as the construction manager for us as we finished the interior of our current building. Just a year earlier, my dad, Keil Alderson helped us insert an accounting and computer system, while my brother Greg played a key role in keeping those systems as well as our computer network up to date. Leon and Marde Voetberg made it possible for us to be in our current building and location and also invested in our business. The generosity and unselfish commitment to us by these individuals will be forever appreciated."
Sponsored