The Rodeo Queen journey recently came to an end for Miss Rodeo Washington 2019. Hannah Leib of Tenino placed first runner-up in the Miss Rodeo America Competition for 2020.  At 26, Hannah served as the oldest rodeo queen and while she reflects on the roller coaster ride of the last few years, she's excited about the future.    
Originally from Sacramento, Hannah moved to Olympia when she was 12. Graduating from Olympia High School, she then earned her bachelor's in Communication Sciences and Disorders and went on to the University of Washington for a master's in Applied Behavior Analysis. She just finished her second master's degree in Clinical Speech-Language Pathology.
Hannah moved to Tenino over a year ago after finding property suited to her passion for horses. With five acres, a shop converted into a five-stall barn, tack room, paddock and arena it's a horse lover's paradise. "Tenino feels more like home than any place I've ever lived," shares Hannah. "It's my childhood dream in a nutshell and to have it so early is a blessing."
Riding since she was three, Hannah started as a competitive jumper, showing along the west coast. She sold her jumping horse when she went away to college. "I saved up through college but jumping horses are astronomically more expensive than a quarter horse," she says. "I bought my quarter horse Willis, who's an all-around horse. I've jumped him, pushed cattle on him and he's been my queen horse."
Her journey to becoming Miss Rodeo Washington started three years ago. "My little sister, Georgia wanted to run for the Thurston County Posse court," explains Hannah. "We've always gone to rodeos growing up and when she found out about their program, she tried out for it and got the queen position. They had a princess position that nobody tried out for, so they asked me if I wanted to join my sister. So, she was the queen and I was the princess even though she is six years younger."
The sisters didn't stop there. "We both decided to run for the state title," Hannah says. "I ran for Miss Rodeo Washington and she ran for Miss Teen Rodeo Washington. For 2018, we were both the first runner-up in our age divisions. I went on to compete a month later for Miss Pro-West. I was Miss Pro-west last year and this year I became Miss Rodeo Washington 2019. It all led up to the 2020 Miss Rodeo America Pageant where I got first runner-up. It was a real honor competing at that level."
One factor of the Miss Rodeo America pageant is horsemanship, where riders get on horses they've never met. Another aspect is a written test covering everything from animal science, rodeo knowledge, Miss Rodeo America and Professional Rodeo Cowboys Association history.  Other components include personal and horsemanship interviews, a fashion show, impromptu questions and a speech. During the Miss Rodeo America pageant, Hannah brought 20 outfits for eight days of competition and competed on an average of four hours of sleep per night.
Yet Hannah is accustomed to working hard. In Washington, there is a high need for speech-language pathologists, so Hannah worked on obtaining a conditional certificate for the past three years. Working full-time as a speech therapist while going to graduate school and rodeo queening is a lot for her to balance.
For Hannah's efforts, she won a $10,000 scholarship which can be applied towards her student loans. If anything were to happen to the current Miss Rodeo America, then she would step in but she will not be competing again.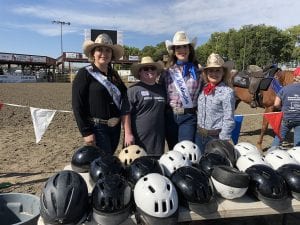 "Basically, I'm done!" says Hannah. "Once you compete at the national-level you really don't go back because that would be backpedaling. Plus, I aged out. I was the oldest rodeo queen in the world this last year at 26. I'm only the second person from Thurston County to win the state title in the last 37 years. So now my focus is going to be on all the things I put off over the last three years that I get to do."
Hannah also lent her support to several charities during her tenure as Miss Rodeo Washington. "One of the things I won going into the pageant was the 50 Pink Horses Challenge," says Hannah. "October is Breast Cancer Awareness Month and girls participate to raise money for awareness programs. Thanks to the help of local people like the Velocity Drill Team, I rode all 50 horses in the month and raised the most money which went to Because There is Hope.  It's a non-profit in Spokane, like a Ronald McDonald house for adults seeking cancer treatment. Together with twenty other girls, we raised over $13,000 in 30 days."
Hannah will join Rascal Rodeo's board of directors in 2020. "I also partner with Mission Outdoors, which works with American veterans by offering outdoor adventures and helps with making connections once they come home and become civilians again," she adds.
But Hannah isn't done with the rodeo queen life altogether. "One of my goals is to grow the Thurston County Posse Rodeo Court so people locally have an opportunity to experience what a rodeo queen title is," she says. "We are far more than looking nice on a horse. I want it to include more volunteering and community service. South Thurston County is a great area because we have more kids that are involved in 4H and FFA.  We are expanding it beyond Thurston County and to all the counties down here who have girls that are willing to commit."
Queen programs involve sacrifices. "You can't have any public relationships," she says. "You can't have any photographs of you with alcohol or in a bar. You are a role model for young women and those are not actions that promote the wholesome lifestyle that rodeo queens represent. A lot of people don't want to give that up, even for a year.  It was a no brainer for me – the scholarship money and the ability to travel. It's a blessing."