Each year over 250,000 rides are taken on buses operated by Twin Transit. Passengers use the service seven days a week to get around Centralia and Chehalis. It's a simple process, but for those who've never ridden before, it can seem intimidating. Not to worry – this handy guide includes everything you need to know to navigate the system like a pro.
Like most public transit systems, each Twin Transit route is identified by color, number and name. For example, the Intercity Express between Centralia and Chehalis is identified by the number 30 and the color red. Each route is easy to locate on the map by finding its corresponding color.
The map's color-coordinated circles denote individual bus stops. Be sure to check the white arrows on each route to see which direction the bus is traveling. You can transfer from one route to another at bus stops that serve multiple routes. Or, you can walk between two closely located bus stops to switch routes.
The reader board on top of the bus displays each bus's individual route. If you're not sure what to do, just ask Twin Transit's friendly drivers. They're happy to help.
Timetables are named, numbered and colored to match their corresponding route. Each timetable lists several major stops, which are individually numbered to correspond with their color-coordinated bus stop circle on the main map.
To best use the timetables first, determine which stop is nearest to your desired pick up location. Next, find the bus stop nearest your destination.
Are they on the same route?
If so, simply select which time you'll be departing, then follow the corresponding timetable row from left to right, top to bottom (like you're reading a book) until you arrive at your destination bus stop.
If you need to transfer from one route to another, you'll need to find your starting bus stop, destination bus stop, and the most convenient transfer point between the two routes. Keep in mind that you can always walk between two nearby bus stops to catch a transfer if needed.
The easiest way to navigate the system is to visit TwinTransit.org and click "Find My Bus." This will take you to a live bus tracker, which includes timetables and bus stop locations. Simply select your route, locate your bus stop (indicated by the orange circles), then find the green arrow to see your bus's current location.
When boarding the bus, be sure to have your pass or exact change for the fare ready. A single ride is $1, an all-day pass is $2 and monthly passes are $20. Kids six and under ride free. If you're unsure which is the best option for your destination, the driver can help. Keep in mind that only single-use and daily bus passes are sold on board the bus.
Single-use, daily and monthly passes can be purchased via the Token Transit app, which is available via TwinTransit.org, Google Play and the Apple app store.
Monthly passes are the best deal and they offer great flexibility. Each digital monthly pass is valid for 31 consecutive days after the first use.
Twin Transit partners with Centralia College to offer free monthly bus passes to all current Centralia College students. A discounted high school bus pass program is currently in the works. For more information, email Info@TwinTransit.org.
Use common sense and pay attention when riding the bus, just as you would in a public space. Issues are rare but if one occurs, always notify the bus driver. Rude or offensive conduct may result in dismissal and the restriction or elimination of future use.
Seatbelts, when available, are encouraged but not required. For passenger safety, please stay seated or maintain a firm grip on the passenger handholds. If the bus needs to stop suddenly, it's important you and your things are secure.
Every bus is equipped with ramps or lifts for mobility devices and each offers priority seating for the elderly or those with disabilities. Drivers can provide a boarding ramp and help secure mobility devices as needed.
Items like gas-powered tools and automobile batteries are not permitted on board the bus. Pets are allowed only in an escape-proof animal carrier.
Arrive at the bus stop several minutes early and be sure you are on the correct side of the street. Asking to borrow money, solicitation and panhandling is not allowed. Smoking or vaping is not allowed on buses or within 25 feet of a bus stop.
It's important to be respectful and courteous. When using a cell phone, keep your volume as quiet as possible and the content appropriate for a public space. If you'd like to listen to music, use headphones and make sure the volume is low enough that others can't hear it. Eating is not allowed on the bus and beverages need to be in a non-glass, spill-proof, travel container.
If you're carrying items with you, they must be transported on and off the bus in one trip. Carts and strollers must be collapsible to allow room for other passengers as needed. Buses are equipped with bike racks for two bikes, available on a first-come, first-serve basis.
Tips for Kids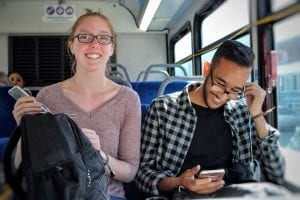 For young people, public transit offers a path to independence. Riding the bus empowers and provides access to employment, education and recreation.
Parents can rest assured knowing that many Twin Transit bus drivers are previous school bus operators who are attuned to kids and will help ensure they are comfortable and safe while riding.
Kids ages 10 and up can ride Twin Transit buses on their own. Children nine and under must ride with someone who is 16 or over. Older kids can take a younger sibling as young as six on the bus with them.
Token Ticket and the TwinTransit.org live bus tracker make riding a breeze for kids and their parents.
Twin Transit buses operate Monday through Friday from 6:00 a.m. to 8:00 p.m. and Saturday and Sunday from 8:00 a.m. to 5:00 p.m. All service is closed on New Year's Day, Easter Sunday, Memorial Day, Independence Day, Labor Day, Thanksgiving and Christmas Day.
People of all ages traverse Centralia and Chehalis on Twin Transit buses. It's safe, easy and their friendly drivers are skilled at getting people where they need to go. So what are you waiting for? Hop on Twin Transit today!
Twin Transit
TwinTransit.org
360-330-2072
Info@TwinTransit.org
Sponsored