Smaller businesses cannot match the charitable giving of large corporations but by instituting a philanthropic mindset, it leads to giving back and contributing in meaningful ways.
Alderson's Awards West Printwares is committed to contributing to local humanitarian needs. The 2nd Annual "Thankful Shirt" sales in November will again benefit the Lewis County Food Bank Coalition to help provide assistance for immediate needs in the community.
Sue Barlow is the President of the Lewis County Food Bank Coalition, the parent organization that supports Lewis County's nine food banks. She's impressed with Alderson's efforts. "He's helping the whole county this way," Sue says.
"We view the county as our community, not just Centralia and Chehalis," Tom says. "As a business, we are well supported by the entire county and, when we have a chance to give back, we like to do it as much as we can. This gave us that opportunity."
The food banks are nonprofit organizations, which means they're entirely volunteer-run "from the president to the people who load the trucks," Sue says. "Hunger is very real, so everything goes right back into the community. It's enjoyable to work with small communities and businesses. It can be super simple to large. Businesses give what works for them. That's what we want to encourage for individuals too."
A portion of the Thankful T-shirts sales this year is also going to the United Way of Lewis County to support their 30% by 2030 initiative to help lift families out of poverty and creating long-term stability for families.
With a bold goal to break the cycle of poverty for over 13,000 families in Lewis County, United Way is uniting the community to create collaborative, strategic approaches to help families move from a life of poverty to a life of prosperity.
"We are grateful for the partnership we have with Alderson's all throughout the year," says Angela French, Resource Development Director with United Way of Lewis County. "They believe in United Way's mission of lifting 30% out of poverty by 2030 and we are very lucky they have chosen United Way of Lewis County to help support struggling families in our community."
Available with last year's design on grey heather shirts in both men's and women's styles, the high-quality shirts come in both long and short sleeves. In the popular buffalo check pattern, the shirt says "Thankful" in a lovely script, with "Gratitude: An Attitude for Every Season" underneath.
New this year is an updated "Thankful Everyday" design on maroon and forest green shirts in men's and women's styles with long and short sleeves. For just $15 plus tax for short sleeve and $20 plus tax for long sleeve, most colors and styles are available through size 4XL.
The T-shirt fundraiser is meaningful for Alderson's both as a way to give back and as a philosophy. "We feel very strongly about just what the shirt says – gratitude and thankful," says Tom. "We are blessed as a business and as individuals here."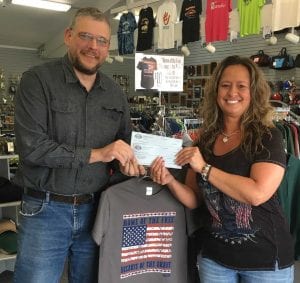 Since Alderson's started fundraising with T-shirts, including for the Lewis County Veteran's Memorial Museum, and Love INC., they've raised thousands of dollars for the organizations making Lewis County the wonderful place it is.
"Our feeling is, by doing this, we're able to leverage what we have and donate more," says Tom. "That's where the idea for these T-shirt fundraisers came from. Because, hey, that's what we do for a living."
With a goal to raise $1,500, $500 for United Way and $1,000 for the Food Bank Coalition, Alderson's needs the community's help to sell at least 100 shirts at $15 each for short-sleeved and $20 each for long-sleeved. The shirts are available at Alderson's from November 12 until they sell out, so get yours today. They make great gifts and are perfect for wearing this holiday season!
"We ask members of the community for their support," says Tom. "It is their contributions that make these projects successful. We so enjoy the people who come into our business and contribute, knowing that 100% of the purchase price is being donated.  Without them, none of this would work."
Alderson's Awards West Printwares
1124 Kresky Avenue
Centralia
360-736-2912
Sponsored