Disclaimer: This article is intended for readers age 21 and older.
If you haven't visited Gypsy Greens in a while – or never before – now is the time to check it out. With a recent remodel and expansion, the shop's bright and airy ambiance offers new farms, price points and staff. "It all came together beautifully," Manager Raffe Reyes says. "The new space sets the team up for success."
As with their five newest employees, Reyes always hires local. With 13 total employees, a familiar face awaits customers at both the cannabis and glass shop.
Your experience starts at the door with a friendly greeting from ID checkers. Then you meet Gypsy Greens' outstanding budtenders. The process is professional, informative and smooth. With a corporate background, Reyes instills those values in her staff. "It's what sets us apart," she says. "We are professionals and the team is very educated.
Reyes is most excited to bring new products to customers – and there's always something new happening in this industry. New items come out daily. Gypsy Greens brings in a wide variety of products and represents a range of farms. Using expert guidance from her staff, Reyes expanded all the options. "My team helped me build it all out," she says.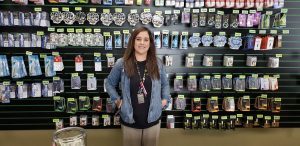 Staff members love to hear what customers think of each product. Listening helps them provide products people enjoy and eliminate those that aren't well received. "I appreciate it," she says. "Without their feedback, we wouldn't know what the community wants."
The recent expansion created space for a refrigerator to hold diamond sauces and higher end oils. These need to be kept cool to maintain consistent terpene profiles. "That was the team's happiest moment," says Reyes. "They love oils and terpene profiles. We all get excited when new things come in."
Customers enjoy the ever-changing variety at Gypsy Greens. Now there's room for more than ever, giving customers a variety of strains and price points. The shop also now offers double the amount of in-demand CBD products people depend on.
The renovation also helped streamline customer flow. The popular store still has a line sometimes but now customers are inside instead of out the door. Reyes and her team enjoy watching people interact while they wait. Customers make recommendations to each other based on previous experiences with each product. Heightened customer engagement is very rewarding for the team.
It's easy to save at Gypsy Greens with their new loyalty program. Gone are the days of punch cards – always a hassle to keep track off. At Gypsy Greens, all you have to do is sign up at a convenient kiosk and opt in for text or email. Check in at the kiosk during every visit and after ten check-ins, customers receive a 20 percent off coupon. Plus you can save more with alerts for store sales and discounts.
More space means more fun at Gypsy Greens. Hosted by Byrne and Byrne Solutions, their annual celebration on 4/20 was spectacular with big discounts. Look forward to more fun with an upcoming 7/10 Dab Day, also hosted by Byrne and Byrne Solutions. "It was the nicest reward as a whole," says Reyes. "We can have more flair this year and bigger events with even more deals."
Reyes is excited to have vendors come to the shop for events. It gives customers a chance to get to know the companies who supply Gypsy Greens with all their great products. Farms set up for several hours, answering questions and making recommendations. The featured farm's products are discounted 15 percent for the entire day.
Local favorites in the Gypsy family include Doc and Yeti Urban Farms in Tumwater, Olympia's Capital City Chronic and Phoenix Cannabis Company, and SKöRD Marijuana from Battle Ground.
Generations of families visit Gypsy Greens together. Grandparents and parents come in with grandkids. "It's intriguing to see," says Reyes. "We hear their stories about how they grew up and how far we have come in the industry."
Gypsy Greens is passionate about bridging those gaps and educating the public. "We're here to be part of the community in a happy, healthy way," shares Reyes.
Gypsy Greens Chehalis
1570 North National Avenue
Chehalis
360-996-4030
Warning: There may be health risks associated with consumption of this product. Cannabis can impair concentration, coordination, and judgment. Cannabis has intoxicating effects and may be habit-forming. Do not operate a vehicle or machinery under the influence of this drug. For use only by adults 21 and older. Keep out of the reach of children. Persons who are pregnant or breastfeeding should not use cannabis.