When Kelvin Wallin's daughter told him what she'd discovered during substitute teaching, he couldn't help but smile. Homeless schoolchildren in her class received brand new backpacks filled with supplies. "She thought it was really exciting," he says.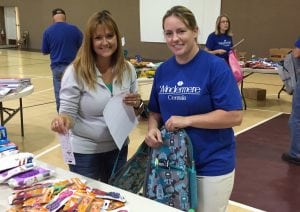 What she didn't know was the supplies were purchased by the Windermere Foundation and her dad was a major contributor. He fundraised and filled the packs along with other volunteers. He even delivered them to the school himself. It was the best kind of secret. But it's big news for our community.
The Windermere Centralia team has been giving back to Lewis County for years now. When a Windermere agent sells a house, they send a portion of the proceeds to the Windermere Foundation. The Foundation saves and then redistributes funds to local causes handpicked by the local team. Community members and local businesses pitch in as well.
It's remarkably successful.
Since the beginning, Windermere Centralia has doubled their total donation with every passing year. Their goal for 2019? To do it again.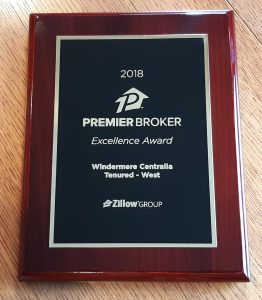 They're off to a great start. This year's fundraising efforts kicked off with a special surprise. "Zillow gave our office an award for being one of the top three performing offices on the West Coast," says Owner Max Vogt.
The Premier Broker Excellence Award is highly competitive. Windermere stood out for their high level of service and impressive sales record. "We work with a lot of brokers on a national level and they work with consumers to help them find homes," says Alicia Pillatos, Zillow senior business consultant. "Windermere has done a really good job at that. We chose them because of their exceptional service."
It was a pleasant surprise for the team. "I am very proud to be part of a team where we can help the people in our area find a home they love," says Realtor Shawna Perryman. "The award is just a bonus that shows our hard work. And it helps make an even bigger difference so that we can donate extra money to the Foundation."
Realtor Paula Burrows says, "Our brokers work hard and it shows! I think it is great that Zillow has given this bonus award and recognition to our team."
The award comes with $1,000 in prize money. What did the Windermere Centralia team choose to do with their winnings? They donated every last cent to local kids in need.
"I was surprised," Pillatos says. "Not a lot of teams choose to donate their award."
This response was particularly impressive for the Zillow team, who also care deeply about homelessness. "Zillow has a major focus on this," Pillatos says. "In 2017, we pledged $5 million to combat homelessness over the next five years. It's called The Home Project and it's fighting homelessness nationally."
To see the Premier Broker Excellence Award prize money go to the same cause was especially impactful. "It's really exciting," Pillatos says.
Caring for children experiencing homelessness is important to Windermere Centralia, and the Foundation makes it easy. "The Windermere Foundation is an asset to our company and our community," Burrows says. "We help children in Lewis County with basic needs they may not otherwise have … I love to see and hear how children's lives are being enriched by the help they receive from the Windermere Foundation. I appreciate that 100 percent of funds we raise come back to Lewis County."
Perryman's favorite part is receiving thankyou letters from the schools. "It's a great feeling knowing you made a difference and that our donations were put to good use," she says. "This isn't just another job I go to, to make a paycheck. All the work I'm doing with Windermere is so much more."
This empowering sense of purpose is contagious. "I'm glad to be part of a team who values community involvement through volunteering, local donations and donating to the Windermere Foundation," says new Realtor Lisa Conzatti, who came onboard in October 2018. "I have worked with other community resource groups in the past whose mission it is to help underprivileged children in our community. It's so important to our future to give children a solid foundation in school."
And anyone can help. Simply contact the Windermere Centralia office to donate and they'll make sure your donation comes back to the school of your choice. Realtor Paula Burrows was recently contacted by The Bonanza BBQ, who wanted to host a dinner benefitting Toledo schools. They're collaborating on the effort, which promises to be fun and delicious while supporting a good cause. "There will be an auction and music at this great event," Burrows says. "Funds raised are going to the Windermere Foundation and 100 percent will be coming back to Toledo schools to help with basic needs for the children."
The event will be held on September 14 starting at 4:00 p.m. at 102 Kellogg Way in Toledo.
"I feel the more I give, the more I want to help with the fundraising efforts to help our children in Lewis County," Burrows says. "If we can help the children, they will live a happier and more positive life. They deserve it and the children are our future."
This issue hits home for Realtor Jillian Brockmöller who sees it from the perspective of a mother. "It warms my heart to know that we are able to help more kids enjoy learning as much as my son," she says. "It means that more kids will be able to have a better education, which means the future will be better for everyone."
For more information on how you can help, contact the Windermere Foundation at 360-736-3300.
Sponsored