Ashton Dowell now has some company. The wrestler made history one year ago by becoming the first Adna High School wrestler to win a state championship. Now Lucas Ashley has joined the extremely rare fraternity at Mat Classic XXXI.
Ashley defeated Tony Nichols of Lake Roosevelt to win the 152-pound title in the Class 1B/2B division at the 2019 state high school wrestling championships, which took place at the Tacoma Dome on February 16.
The junior was one of three Pirates to compete for a state championship as teammates Dowell (170 pounds) and Matthew Slape (170) also advanced to the finals before finishing as runner-ups.
"This program just means everything to us," Ashley said. "We want to see it grow and have success. That's why everyone works so hard."
Adna Coach Craig Ferrier had just seven wrestlers in his boys' program this season with nearly half competing for a state championship, a claim few teams in the state could match.
While Ashley captured his first state title, Dowell was looking for consecutive crowns. He lost, 8-3, in the finals to Chewelah's Kaden Krouse in one of the few matchups between returning state champions at this year's tournament.
Dowell won the 170-pound weight division as a junior last year. Krouse did the same in the 1A ranks. A reclassification dropped Chewelah down to a 2B school, setting up the all-state champion finals.
After a scoreless first period, Krouse notched an escape and takedown in the second period to grab a 3-0 lead. Dowell was able to trim the deficit to 3-1 with an escape midway through the third period, but a takedown followed by a three-point nearfall in the final minute of the match ended Dowell's hope of consecutive state titles.
Despite the loss, Dowell capped his high school career in impressive fashion. In addition to winning the 170-pound state title last year, he also finished third at 160 as a sophomore and was a four-time state participant.
Slape, who lost to defending state champion Joe Peasley of Wilbur-Creston in the 160-pound finals, became a four-time state placer with his second-place finish as a senior. Slape also finished fourth at 132 as a freshman, second at 152 as a sophomore and sixth at 160 as junior.
Ashley, who finished sixth as a freshman at 126 and fourth as a sophomore at 145, will attempt to join Slape on the selective list next season.
Ashley notched pins in the second round (4:33) and quarterfinals (3:55) to secure his place in the semifinals where he faced Reardan's Thomas Perryman, who held a slim 3-2 lead midway through the third period.
A reversal with 68 seconds remaining followed by a nearfall in the closing seconds pushed Ashley to a 8-5 victory and into the finals where he used a dominating third period to best Nichols, who was seeking his second straight 152-pound state championship.
"(Nichols) is the one I wanted to wrestle in the finals; he's a tough wrestler, a state champion," Ashley said. "This is just the best feeling in the world."
Adna finished 10th overall in the team standings, giving the Pirates their third straight top 10 finish. Adna also finished third in 2018 and sixth in 2017.
Tonasket won its third consecutive team title in the 1B/2B classification, posting one of the highest point totals in tournament history (348). The Tigers had a wrestler compete for a championship in half of the 14 weight divisions, winning five titles.
Adna also had a state placer in the girls' tournament as senior Cheyeann Meyer finished sixth in the 125-pound division. Meyer defeated Washougal's Josalyn Ortiz (3:17) and Auburn's Autumn Miller (3:55) by pins to win her first two matches before losing in the quarterfinals, 4-3, to Lakewood's Cassidy O'Hara.
After working her way through the consolation bracket, Meyer once again squared off against O'Hara in the placing round. Meyer dropped the rematch, 4-1, to take home the sixth-place medal.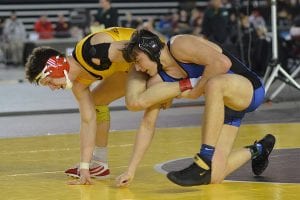 W.F. West junior Xylia Warner also collected some hardware in the girls' tournament, finishing fifth at 140. Warner advanced to the semifinals, losing to eventual state champion Krista Warren of Union.
The Bearcats also received a third-place finish from senior Mason Marones (132) and a fifth-place finish from junior Isaac Reavis (195) in the 2A tournament.
Marones, a state semifinalist, defeated Burlington-Edison's Aaron Fisher, 2-1, in three overtimes to claim the third-place medal.
Reavis gave W.F. West its second semifinalist as he won his first three matches before losing to Toppenish's Carson Northwind in the semifinals. Northwind would go on to win the state championship. Reavis would pin (5:00) 2A Evergreen Conference rival Jordan Claridge of Black Hills to capture sixth place.