It's easy to get overwhelmed by the bright displays of chocolates, flowers and jewelry when it comes to Valentine's Day, but there's something extra special that couples can do to show each other they care. This Valentine's Day, why not treat your Valentine to a sweet getaway at the Quinault Beach Resort and Casino in Ocean Shores? Relax and make the holiday great with casino games, spa options, fine dining, and so much more.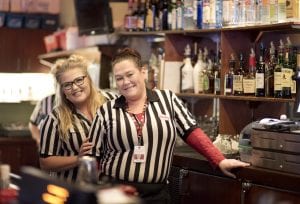 QBRC's many amenities make it a great place for couples to stay this Valentine's Day.
Gaming
There are lots of table games at QBRC that will keep everyone entertained as they stay and win at the resort and casino. Play popular casino games like craps, roulette, black jack, 3 card primes, emperor's challenge pai gow, players edge 21, and more, with table limits going from $3 to $250. The Q-Club Rewards Program also makes it possible for guests to earn points by playing table games that they can later use on treats like dining services, spa services and hotel stays.
The Romance Package
Between Sunday and Thursday, book a two-night stay for you and your sweetheart and enjoy the relaxing casino vibe and comfortable accommodations. With a great low rate beginning at $199, couples also have the choice to upgrade to an ocean view room for only $20 more. The romance package also spoils guests with a $100 dining credit to Emily's restaurant, complimentary strawberries and champagne. The package is based on availability, so don't hesitate to book now while rooms are available.
The Gift Shop
The one-stop-shop gift shop at QBRC is the place to find a sweet memento to mark your Valentine's Day getaway. With a variety of items, it's easy to find something for everyone and the smiling and helpful staff will have you feeling right at home. The gift shop also has a stunning jewelry selection that would make a memorable gift, or there are clothing and wine options, as well.
Dine
Emily's oceanfront restaurant is a beautiful place to sit and enjoy a quiet meal together. Guests will not want to miss the delicious, fresh menu items that all have a signature Northwest flair. Not only will your heart be full from spending time with your Valentine, but your belly will be happy, too. The special during Valentine's Day is a perfectly prepared filet and lobster with a flourless chocolate torte for $60. For some quick food before you and your sweetheart go, check out the casino games or go for a nice swim. The Sidewalk Bistro is a tasty place to visit for chowders, wraps, salads, sandwiches and beverages. The Fireside Coffee bar offers refreshment options and, of course, masterfully made coffee and other beverage choices.
The Beach
The majestic ocean is only a few steps away from the resort. The comforting sound of waves is never far. Don't let the colder February temperatures discourage a romantic walk out to the shores, hand-in-hand with your sweetheart. Take in the sights of the seashells, shorebirds, rolling dunes and frosty looking waves.
The Hot Tub
After a jam-packed day, head to the hot tub for a few minutes and enjoy the spacious seating. It's a great place for couples to take a break with adults-only hours from 9:00 p.m. to 12:00 a.m. every day. The heated indoor pool is also spacious and is an ideal spot for a slow-going swim or to lounge poolside with your special someone.
Spa Services
A relaxing massage will be the perfect addition to the relaxation guests feel as they breathe in the fresh winter air and gaze at the tall, rolling waves. Surprise your sweetheart with one of the amazing massage options available. And why not book one for yourself, as well? Massages vary from $49 to $149, so pick the one that will have stress floating away like the ocean breeze.
Room Service
The exceptional room service at QBRC is a great way to keep the getaway simple for those who would rather dine in and relax in the comfort of their own rooms. Room service is available from 11:00 a.m. to 9:00 p.m. with a great menu of foods and beverages available for delivery to resort guests.
Lounge
The Ocean Lounge is aptly named with its soothing atmosphere. The lounge is open every day from 8:00 a.m. to 2:00 a.m. Guests can enjoy adult beverages and dancing, while listening to free live entertainment.
For more information on booking a special Valentine's Day getaway, visit the official Quinault Beach Resort and Casino website or call 888-461-2214.