The night sky is full of wonder – of the unknown, the majesty, and sometimes, something more, like when witnesses catch a glimpse of a UFO. When this happens, there are teams of investigators prepared to try and identify the objects. Most often, sightings end up being easily solvable. The "unidentified" aspect turns out to be manmade or a meteor. But from time to time, there isn't a cut and dry answer, and that leaves people curious as to if there is extraterrestrial life on this planet. Curious? Check out the annual UFO/Paranormal Summit Conference hosted by Quinault Beach Resort and Casino in Ocean Shores. Here you can take a deeper look at these mysteries with educated speakers that share their years of research and first-hand experiences.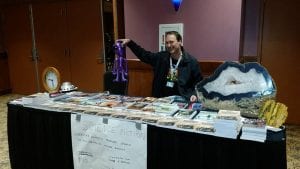 The conference takes off on Friday, March 1, at 6:00 p.m. with events through Sunday, March 3, at 12:00 p.m. It's a great place to gather with friends and family, and partake in a weekend of forums and activities while experiencing everything the resort has to offer. A varied crowd of everyone from first-time conference goers to an elite group of professional researchers will be there.
Tickets for the conference are $45 and can be purchased online or at the event. There are $100 tickets that include a workshop with well-known Derrel Sims, The Alien Hunter, on Sunday. They also come with a free t-shirt and a weekend pass, too. On Sunday, there will be three rotating workshops with Derrel Sims, the UFO iTeam, and Maurene Morgan that are limited to 45 people in total. Each group of 15 participants will go through all three workshops. There will also be one or two surprise speakers, as well.
Conference goers should check out QBRC's special weekend rooming rate. It includes two tickets to the Friday through Saturday events and a bonus of two t-shirts. Reserve a two-night stay while they're still available, with the UFO Summit Room package that starts at $349.
On Friday at 6:00 p.m., the conference will kick off with themed vendors of reading materials, mementos, clothing and souvenirs. Say hello with a meet and greet with the speakers from 6:00 p.m. to 10:00 p.m. Receive autographs, ask questions and take some memorable photos. Witness testimonies will take place at 9:00 p.m. on Friday. It's the perfect chance to share any UFO or other paranormal experiences.
A diverse list of speakers awaits attendees:
Maurene Morgan is a field investigator who is certified and has experience in reports of UFOs, mental and physical procedures, and entities. Morgan is also a Washington State MUFON state section director. Morgan runs the Olympic UFO Meet Up in Port Townsend and a side group for people that have been through any kind of paranormal encounter.
UFOiTEAM: This team is a group of researchers that have been through a paranormal event and work with each other to investigate UFO-related phenomena. They chiefly work within communities to give people a space to talk about their experiences and educate them in-person and through online media. They also have plans to develop a television pilot and pitch it when complete.
Derrel Sims, The Alien Hunter, is the "leading expert in alien abductions" with over 38 years of field research and experience. He also has a background as a CIA operative and military police officer. Sims works as a therapist now, having helped many people from all parts of the world better interpret and understand the encounters that they've experienced.
Aleta DeBee believes that studying certain phenomena is important for the world to better understand the future and past. Debee is an experienced field investigator and the assistant director of MUFON (Mutual UFO Network) in Washington State, and has studied paranormal abduction with the intention of helping people make sense of what has happened to them.
Maury Island Incident with Steve Edmiston and Scott Schaefer: Steve Edmiston is the founder of Quadrant 45 and is also a writer and independent film producer when he's not working as a lawyer at Bracepoint Law in Seattle. He co-founded the Maury Island Incident Historical Society and puts together the "Burning Saucer," an annual event. Scott Schaefer has upwards of 33 years in multimedia experience and is also an award-winning producer/director. He's in charge of a network of local blogs for South King Media. For more information, take a peek at Schaefer's website.
Reverend Sarah Nash is the president and founder of White Light Express and is a popular spiritual medium that focuses her keen abilities on clairaudience/clairvoyance. In her work in investigations with law enforcement agencies and with clients, she works with these presences, or beings, that she calls "far friends." This is a great opportunity to hear about her experiences and learn some new tools for your own life.
Don't miss out on this weekend of fun! Make sure to purchase a ticket today as quantities are limited. For more information and a complete schedule, zoom on over to the UFO/Paranormal Summit website.