Being a person that has traded in and bought many different vehicles, I'll say there is one thing that brings me back to a specific dealership. It's all about the people. With the auto industry so competitive these days on pricing, it's important to have something that helps you stand out from the crowd. And that's exactly what general manager Robert Pehl is hoping to achieve at I-5 Dodge in Chehalis. "We really want to make it a warm, friendly, inviting atmosphere to come to service all your automotive needs," he explains.
This newest store to the I-5 family carries Chrysler, Jeep, Dodge, RAM and Fiat. But as Robert tells me, it is about so much more than the brands they carry or the cars they sell. Just like any major purchase, buying a car can be a stressful experience, but at I-5 Dodge they want it instead to be a fun, energetic and happy occasion. Robert says, "Every single dealer we compete with has low pricing as well, but what we can offer that separates us is to give the best experience possible."
You won't find any stereotypically pushy salespeople of yesterday who just wanted to make a quick dollar. Nowadays, the customer is well educated due to the amount of information available. They often come in knowing exactly what they want, what price they can get it for, and even sometimes their financing options. "It's forced dealerships to be very transparent with their customers and to operate with nothing but the utmost respect," Robert adds. However, he knows respect is not always easy to come by and has to be earned.
This is why Robert and his I-5 Dodge team are willing to go to great lengths to make sure their customers have the best possible experience. As he explains, "It's just about making people feel comfortable. I think that's a huge part of the business especially when you're looking to make such a large purchase as a vehicle is. It's all about building a friendship and trust with a customer." And that goes for the entire dealership, not just the sales team.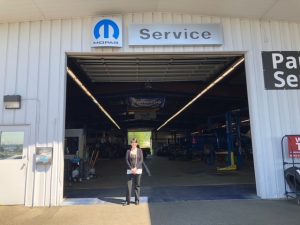 At I-5 Dodge customers can rest assured they will be taken care of no matter what their needs are even if there are some obstacles in the way. "Our goal as a dealership is to find any way possible to say yes to a customer. We are always up for any challenge that presents itself. We're going to approach it with a smile, honesty and integrity. That's really what the heart of this dealership is about." Finance manager Felix Lopez can often be found outside of his office helping to educate customers on how their deal will work before they ever sit down to sign papers. Because it's about much more than just those final numbers. "That's something I think really does matter to customers because it can be a confusing and scary thing, fear of the unknown. For us it's about proving that we're working for you not against you," Robert says.
The same can be said for the top-notch Chrysler certified Service Department at I-5 Dodge. Unfortunately, their job often comes with delivering some not so positive news when vehicles need necessary repairs or services. But you will find the same level of respect and integrity on the service side of things as well. "We want to fix it right the first time because no one likes to bring their car back to the shop after they've been in already," Robert tells me. He says he often sees people come in who are very attached to their vehicles and his team understands. "When you realize how much a vehicle really does mean to someone you have to approach that with some empathy and have some bedside manner with that customer. It's not just simply fixing a transmission, it's as if you're operating on an actual person to them."
So whether you're looking to purchase a different vehicle or service the one you have, give I-5 Dodge a chance to earn your business. A dealership where you can relax knowing you'll be with knowledgeable people who actually care. It's obvious to me, speaking with Robert, this is his passion and what he loves to do. As he says, "For me it's pretty much my life. And I think the part that I like about it the most is dealing with people whether it's employees or customers. It's true every day brings new challenges or as we say opportunities. What's more fun than that? I can truly say the heart of this store is everyone across the board is just here to serve customers and do whatever it takes for them."
They are celebrating a re-grand opening this month with a Centralia Chehalis Business After Hours May 17 starting at 5:30 p.m. Everyone is invited to stop by for some food and drinks; have a look around to see all the great changes.
I-5 Dodge is part of the I-5 Cars Automotive Group and is located at 1560 NW State Avenue in Chehalis. They are open seven days a week in the Sales Department and Monday through Saturday for Service.
Sponsored