Did you know you can hear and even play with world-class acoustic musicians right here in Lewis County? The Washington Acoustic Music Association (WAMA) brings musical guests such as David Grier, Stephen Bennet, Jim Hurst, Kate Long and Beppe Gambetta to perform at events in Lewis County. With performers coming from as far as Italy and Czechoslovakia, it's an exclusive opportunity. What's more, the association focuses on promoting the development, performance and preservation of acoustic music.

President of the non-profit association Marv Sobolesky offers private acoustic music lessons. He came up with the idea of slow-jams in 2004 to get his students together. "It just grew from there," says Marv. "It's good for all levels because if you're advanced, it's really hard to play clean and slow."
Slow-jams provide a way for all levels to learn. "It's so important to play with other people," says Jim Bierlein, Secretary of WAMA. "You learn so much more when you're exposed to other styles and other songs. When you are first learning, there's no one to jam with. [Here] all are always able to participate, no matter the skill level, and walk away feeling like a musician."
Jim realized he needed a hobby after retiring from his career as a teacher. He bought a guitar but didn't know how to play. Then he found Marv online and started taking private lessons. "Now music is such an important part of my life," says Jim. "I had no idea there were jams around. My goal is to spread the word and let other people know they are missing a lot. To me, music lifts my spirit and is a place I can go to and feel comfortable and safe. I have a little bit of control, yet the music controls me primarily. I am getting to a point now on the guitar where I can entertain myself."
Marv has played music for nearly fifty years. When he was eight, his father bought a guitar but didn't commit to it. His uncle, who was a pretty good guitar player, found young Marv fiddling with his father's abandoned guitar and taught him to play a song. "Music is really important," Marv imparts. "Life can get you down and blue sometimes and music is always there wherever you are. You are in complete control on how far you can take it. That's not something you can buy."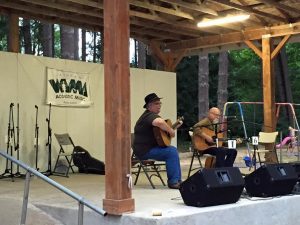 Slow-jams usually feature string instruments such the banjo, mandolin, upright bass, ukulele, violin, cello and even the dulcimer.  With musicians from age seven to ninety, there is something for everyone. "It's kind of cool because in that situation there is no generation gap," says Marv.
"A lot of our members understand and support our cause to keep acoustic music alive and thriving by involving as many people as we can, particularly children," states Jim.
Spectators are welcome to enjoy the music and the evening potluck. "Everyone nurtures one another; it's great camaraderie all based on music," Jim says.
Hosted at the Hope Grange in Winlock on the second Saturday of the month from October to May, these events offer musicians of all levels a venue to learn and showcase their talents.
WAMA also offers a loaner instrument program for those who would like to try banjo, guitar, fiddle or mandolin before making an investment. It gives the person the chance to try the instrument for a month or two and see if they want to pursue it.
Scholarships are available for children in the music community who show an interest and may need financial help. Named for Pat Carpenter, a former secretary and enthusiastic WAMA member, scholarships can be used for lessons, workshops and memberships. The association has even sent kids to Tennessee to an acoustic music camp.
Membership in the Washington Acoustic Music Association is only $20 per household for the year. This includes discounts for concerts and events such as Pickersfest in August. WAMA also hosts an unstructured jam at Oakview Grange in Centralia on the third Friday of the month. "Every single person who participates in the association benefits and gets something positive," says Jim.
Winlock Pickersfest is a three-day festival at Winolequa Park featuring national acts. This year's highlight is Richard Bennet from Tennessee who played with Neil Diamond and other world-renowned musicians. Tickets are $15 per person. Members only pay $10 with an additional camping fee of $10. The weekend is filled with kid's activities, slow-jams, workshops, a beer and wine garden, and food vendors. "Every campsite has little jams going on and they are so welcoming," Jim says. "That was impressive; the welcoming feeling that people share. No one is competing."
Washington Acoustic Music Association has a sincere passion to help others find their inner musician and creative spark. The group is excited for more local musicians to join their cause.
Marv's Music
marvso@hotmail.com
Washington Acoustic Music Association
PO Box 845
Winlock
info@wamamusic.com