Pe Ell-Willapa Valley fastpitch coach Ken Olson does the math out loud, quickly double checking his accuracy as he goes. "Twenty-eight, twenty-three," Olson said as he rattles off a couple scoring totals from the Titans' state playoff run last season. "We had a pretty good state tournament. I think we outscored opponents a combined 60-something to seven."
As it turned out, the combined high school fastpitch program, now in it's fourth season, had a monster postseason offensively last year as Pe Ell-Willapa Valley pushed an incredible 65 runs across during their four-game romp to the Class 2B state championship in 2017, including scoring 10 runs against league rival Napavine in the title game.
They're very impressive numbers to say the least, but the next number Olson spits out is what gets him most excited about this year. "Three," Olson answered when asked how many Titans graduated from last year's state championship squad.
"We lost some talent," Olson said, the excitement of the team's potential evident in his voice, "but we sure do have a lot coming back this year."
Lost to graduation is Abby Hodel, Railey Smith and Dakota Brooks, who picked up the win in the title game last year, while surrendering a microscopic two runs during state tournament play, but as Olson stated, "The cupboard is hardly bare."
"I have been coaching a very long time," said Olson, who enters his fourth year with the Titans after coaching Centralia High School for 19 years, "and this is one of the best hitting teams I have ever coached."
You want to knock off Olson's squad this season? Plan on scoring some runs. Because it's what the Titans do best.
"We're going to hit," Olson said. "No doubt about it. When teams play us they're going to need to score some if they want to compete."
It's an intimidating thought to image a team that went 25-1, with its only loss being a 7-6 setback to eventual Class 1A state champion Montesano, could actually feature more offensive firepower this season.
The Titans scored 10 or more runs a remarkable 20 times in 2017, including in five out of their seven playoff games.
The team crushed Liberty Bell, 23-3, in the first round of last year's state tournament and hammered Ocosta, 28-2, in the semifinals to secure their place in the state title game.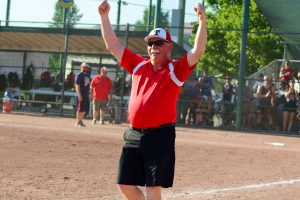 Sidney Pollard, a Montana State University signee, is one of just two seniors on the Titans' roster this year. Don't let the low number of seniors fool you into thinking Pe Ell-Willapa Valley is nothing but a battle-tested team as the experienced Titans return the bulk of its lineup from last year's state title squad.
Infielder Britney Patrick, who, along with Pollard, was a first-team all-Central 2B League selection last year, is one of several players who contributed greatly in 2017 as freshman.
The Titans also welcome back sophomore Katelyn McGough and juniors Grace Hodel and Kamryn Adkins – three players who were all second-team picks last year.
According to Olson, who was last season's Central 2B League's coach of the year, Kamryn Adkins and her sophomore sister, Katie Adkins, will handle the pitching duties.
Pe Ell-Willapa Valley is already off to a fast start offensively this season as the Titans' bats are already in mid-season form, evident by the team outscoring its first three opponents a combined 57-5.
After kicking off the new season with a 15-0 drubbing of Wahkiakum, Pe Ell-Willapa Valley plastered Winlock, 26-4, needing just three innings to post the victory. The Titans opened the contest by scoring 20 runs in the first inning against the Cardinals, batting through the order twice.
"It really is a good problem to have," Olson said about his team's prowess at the plate. "The girls put in a lot of work in the offseason to improve."
The Central 2B League was its usual juggernaut-self last season with the top three placers at the state tournament – Pe Ell-Willapa Valley, Napavine and Toutle Lake – calling the league home. Olson expects more of the same this year.
"We play in a very competitive league," Olson said. "This season will be no different. Napavine returns a lot of players from a team that made the state title game last year. Adna will be very improved with (new coach) Bruce Pocklington and Toutle Lake is always good. It's a very tough league. It prepares us."
If that isn't enough to sharpen the Titans up for another postseason run, Olson has lined up a strong non-league slate to close out the regular season. Pe Ell-Willapa Valley will play its final three regular season games this year against stiff 1A competition in Elma, Hoquiam, which finished third in state in 2017, and defending 1A state champion Montesano.
"This is a fun group to coach," Olson said. "Obviously, when you're scoring runs you're having fun."