For Erika Brumfield, shooting a basketball is like breathing. It comes naturally. She's got hoops in her blood. Not only does she have the size (she's 6-foot-3) and not only does she have the drive, but this junior and all-league center for the W.F. West Bearcats is a third generation hoopster. Her grandparents both played basketball in high school and her parents, Taj and Angie Brumfield, were both all-league players in high school.
"I just love playing basketball," Erika said.
And basketball is still a family affair for the Brumfields. Both her parents are assistant coaches at W.F. West, helping their daughter learn the game.
It's been a plus for Erika having her dad as a coach. "I love it because he pushes me on and off the court and it's helpful," Erika said.
To her delight, she occasionally gets some off-the-court coaching while sitting around the dinner table or driving in the car. With her dad (who is 6-foot-7) having played basketball at W.F. West, Erika knows she can trust whatever he says.
When asked if it was difficult having her dad coach her, Erika said, "No. not really. I respect him as a coach and, obviously, as my dad. It's helpful to have that relationship."
Brumfield isn't just resting on talent. She has a strong work ethic and doesn't need prompting to push herself in practice. "She's really motivated – a real motivated kid who likes to get after it," Bearcat coach Tom Kelly said. "She loves the game."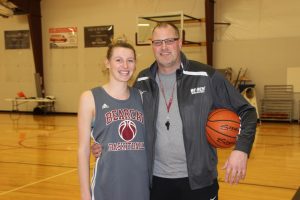 Some athletes rely on their talent and ultimately don't fulfill that talent because they don't work hard. That's not Brumfield's story. "Yeah, that doesn't work the way we play," Kelly said. "You've got to get after it or else you don't get to play. In our system you have to play hard. Everyone plays hard. There's not a choice. There's not an option. She's not going to do that any way."
That gritty, determined approach is working out perfectly for these Bearcats. Erika made first-team all-league and seniors Kiara Steen and Julia Jones made league MVPs. In addition, four players averaged in the double digits scoring.
This talented Bearcat team has the potential to win another state championship. They aren't just offensive dynamos – they lead the state in scoring, averaging 84 points a game. They're also defensive wizards, outscoring Aberdeen, Tumwater, Black Hills and Centralia by 40-plus points in lopsided victories.
"This is a fun team to coach," Kelly said.
Taj joined the Bearcat coaching staff three years ago when Kelly was hired as the head coach. Erika was only a freshman. Taj is glad he's had the chance to board the ship.
"It's been really cool," Taj said when asked what it's like coaching his daughter. "I've always been a dad who tells her what I think she needs to do."
Next year another Brumfield will join the Bearcat team. Drea, Erika's sister, will be a freshman. Like her sister, Drea has the size (she's 6-foot-2) and the talent.
And, despite Erika's size, she's not just a stand-in-the-key plodder, limited to taking only 5-foot turnaround jump shots. She's got an inside and outside game, popping 3-pointers when she's open and dribbling past a defender to the basket.
"Her game is driving – she's a slasher," Kelly said. "She can also shoot the three as well."
That's impressive because usually a kid that size isn't an outside player. "That's usually the deal. You don't see them outside too much," Kelly said. "But she's playing defense – flying around, pressing. She's not your everyday 6-3 kid."
Erika's talent hasn't gone unnoticed. Several colleges have already talked with her and Saint Martin's University has offered her a scholarship.
She's a shot blocker and a scorer, averaging a team-high 13 points a game. Her all-around game is the result of coaches reminding her to play on the perimeter and not just inside.
"I've had coaches who didn't really label me," said Erika, who has started for the Bearcats since she was a freshman. "I played for numerous coaches and they were always, 'Erika you're going outside and inside.' They told me to attack the hoop."
Mission accomplished.
Besides learning how to shoot a jump shot, Angie is glad basketball has taught her daughter some valuable life lessons. Besides gaining teammates and friendships, Angie said her daughter has learned self-worth. "You find out who you are and what kind of person you want to be," Angie said. "But I think the biggest thing is that you continue to work hard no matter what the situation may be. It might not be going your way. For example, you might be losing but you're continuing to work hard."
For Angie, continuing to strive is the takeaway from sports. "You're continuing to do your best," she said. "You want to win. And I think even when things aren't going your way, when stuff is kind of falling apart, learning how to find it within yourself to continue to drive, not get beat down, continue to work hard and stay focused. And not giving up is huge. "I think as a parent those are things that all of the kids learn. Because life is not going to always be fair. It's not always going to be easy. There are going to be challenges."
Erika and her teammates know about not giving up. And now with the playoffs underway, it's focus time for these Bearcats.
"Time to get focused and get after it," Taj said. "We know what we think these girls are capable of doing. Just take it one game at a time and get it done."
It's been a winning formula so far.