It can be hard to comprehend the difficulties that military families face, even when doing something as routine as buying a house. While many of us may not even think of that as a challenge, Mike and Stacy Souci with Coldwell Banker Bain not only understand it, but have lived through it. The husband-wife team uses their own experience to help other military families buy a house with less stress.
Before becoming a realtor, Stacy has been a landlord and a property manager while her husband was in the military. During his 13-years of service, they moved around a lot. When they were stationed at Fort Benning, Georgia, Stacy started thinking about a career in real estate and in 2009 she became a Realtor.
When Mike got out of the Army in 2011, he spent several years as a Department of Defense private contractor before deciding to join Stacy in the real estate business in 2016. "We've been landlords and property owners for many years and I always loved what Stacy did," Mike says. "We decided to be a team and while I may be a newer Realtor, I have so much knowledge I've learned from Stacy over the past 10 years."
They find that their past experiences as property managers and landlords are helpful when home owners aren't sure whether to sell or rent out their houses. "People wonder if they should sell or rent until the market gets better," says Mike. "I am there to explain how property management works, what it's like to be a landlord and the pros and cons of each. It's nice to lay it out so they can make an informed decision."
Knowing Who to Trust
That's not the only thing their experience has helped them with. After 10 years as a real estate agent, Stacy knows who she can trust to care for her clients. This is particularly important when it comes time for the home inspection, especially for military families where one or both of them may not be available to walk through the home with the inspector.
That's why Stacy and Mike trust Boggs Inspection Services every time.
"Dwayne Boggs at Boggs Inspection Services completed our inspection when we first purchased our home in 2006," says Stacy. "This was before I went into the business. He was referred to us by another broker and we were very impressed with Dwayne. When we started our business here in the Olympia area, we decided to continue to utilize their services and have been very impressed with everyone at Boggs."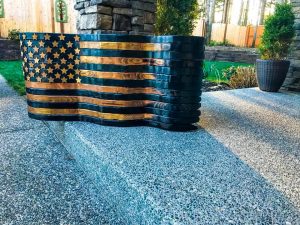 Just like the Soucis, the Boggs team is willing to go the extra mile for the clients. She says Keith Bowman, an inspector for Boggs Inspection Services, completed an inspection for a family stationed overseas together on FaceTime. When they decided the house was too much work, Keith inspected another home for them, again on FaceTime. "This is what I have come to expect with Boggs, which is why they complete all of my inspections," Stacy says.
The feeling is mutual. "Stacy is very professional and compassionate about making sure her clients are taken care of," says Dwayne Boggs, owner of Boggs Inspection Services. "Even if the buyer is worried about something small, that others may think doesn't matter, she is diligent and asks us to check it out."
Dwayne also shares the Soucis' passion for supporting the military. He has several veterans and ex-military members working for him and loves that the Soucis work so hard to help them achieve home ownership.
Going the Extra Mile for Service Members
Because of their own experiences, the Soucis really empathize with military families and want to ease their burden as much as possible. Mike remembers the first house he and Stacy bought and the challenges they had.
Mike says that there are plenty of resources available for military families, but they do not often know how to find them or use them. "The military doesn't offer education on how to use our benefits," Mike shares.
"We were young and no one really explained to me the process to use my VA benefits and loan," he reflects. "We knew it was there and we had a loan officer do it for us, but we really had to learn as we were going along. As a result, our whole goal is to work with soldiers and their families and make sure that they understand their benefits. We are with them every step of the way to make it easier."
Mike adds that helping with the loan process is not usually a Realtor's job, but he and his wife go the extra mile to help families that have given so much through their service.
The families appreciate being represented by a couple who have been in their shoes, Mike says, both for the one in uniform and the spouse. "Being a military spouse comes with its own challenges, especially when it comes to home buying," he adds. Sometimes, spouses select and buy a house on their own while their partner is deployed.
"We also get people that are buying locally while they are still stationed overseas," Mike adds. "They are basically buying a house sight unseen. At that point, they really have to trust us." It's not uncommon for Stacy or Mike to FaceTime with a client, just like they did with the Boggs Inspector, while touring a home. This helps the family get a sense of the space and feel more confident about making a deal on a home virtually sight unseen.
"It's our way of saying thank you to those that serve," the couple explains. They treat all their clients – military or not – with the same care and respect. They want to make sure each client has as stress-free a buying process as possible and ends up with the home of their dreams. To see their listings, visit the Coldwell Banker Bain website. Learn more about Dwayne and his experienced team of home inspectors at the Boggs Inspection Services website.
Sponsored