Joseph Scheuber is a remarkable man. He continues to work well into his eighties as a part-time employee of Centralia's Sticklin Funeral Chapel.
Although Joe no longer speaks very well, he's eloquent nonetheless. His manner is one of quiet confidence and dignity and his eyes speak of knowledge.
Getting to know him, without the ease of speech, would have been difficult if not for the simple device of a scrapbook. I met with Joe and his wife, Christle, and she took me through the book on a visual tour of Joe's career and accomplishments.
Joe, himself, spoke only occasionally during the interview but he did answer Christle's questions and corrected certain facts. Behind his eyes you could see that he was eagerly following in the conversation.
The scrapbook is filled with photos, mementos and letters. Christle showed me a red and blue patch which reads, "6147th TAC. CON. GP. Korea. Mosquito. 5th Air Force." The image on the patch shows a stylized mosquito leading a squadron of planes. It was awarded to Joe for his contributions as an Air Force mechanic in the Korean War where he served from 1952 to 1956.
Joe worked on T-6 "Mosquitos" — tough, fast aircraft that could operate from small, rough airstrips. The T-6's were used for directing air strikes against retreating enemy troops ahead of advancing United Nations ground forces.
As Joe looked on, Christle held up a hand-tinted photo of a much younger Joe wearing a police uniform. Joe joined the Chehalis Police Department in 1957 after his return from Korea. He worked as a police officer until his retirement in 1982. For many people, retirement means a well-deserved rest after years of diligent work. Not so for Joe, who then added an entirely new phase to his already long career.
After his retirement, Joe went to work for Sticklin/Brown Mortuaries in Chehalis and Morton as a maintenance man and groundskeeper. He's been there ever since, additionally acting as a mail handler and trusted courier of important documents between the facilities. Joe's reliability and diligence make him a highly-valued employee.
"He's absolutely trustworthy," says Daniel La Plaunt, manager of the funeral homes. "With his military, law enforcement and life experiences, Joe's brought great value to our workplace. And as a senior who has elected to continue working, he's part of a growing trend in America."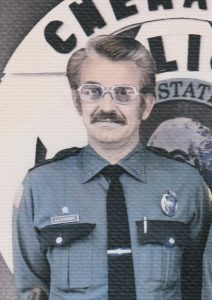 There are many reasons why seniors continue to work past retirement age. For some, it's a need for continued income. For others, it's the chance to remain active in the community. Joe is one of the latter, and continues to serve his community today. His work ethic exemplifies what Sticklin Funeral Chapel is all about. "Our work is about serving people," says La Plaunt.
Christle shows me two newspaper clippings from the 1980s. In them, Joe is shown in a staff montage. He's described as groundskeeper for the funeral chapel. That newspaper ad ran over thirty years ago. In today's world it's amazing to see anyone working for one company for so long.
According to La Plaunt, Joe's history with the company provides a sense of continuity to the funeral chapel's past. "Joe is our most senior employee," he tells me. "His deep-rooted connections to the community are a great asset to our business."
In 1994, Joe had a six-way heart bypass surgery. He returned to work soon after recovery. In 2017, he continues to work often twenty hours a week. "Joe's always the first one in," says La Plaunt. "Everybody likes Joe — he's faithful, consistent and never afraid to do the job.  Everyone can depend on him."
Outside the funeral chapel, the wide green landscape is meticulously cared for. A beautiful hydrangea displays plate-sized blossoms outside the front doors. The exquisite blue flowers are a fitting backdrop for Joe Scheuber who's been keeping the Sticklin grounds tidy and welcoming for more than thirty years.
Sponsored