Growing up, John Ball was involved in FFA (Future Farmers of America) because his family was. His father grew up on a farm in Minnesota and was a member of the FFA. John's older brother got involved in FFA after listening to their father's stories growing up and John followed in his footsteps. Now that he has a family of his own, John is carrying on the tradition of bringing up his kids in the world of FFA.
As soon as he was old enough (high school age), John started showing Rex rabbits and also did a market lamb one year. Back then, Washington High School (formerly part of the Franklin Pierce School District) had its own herd of registered Black Angus. John showed those as well through FFA. His high school agriculture teacher helped steer John toward his career.
"My agriculture teacher in high school encouraged me to becoming a teacher and FFA advisor," says John. "And it's kind of a family thing, my brother is one as well in North Dakota. I knew it was a good program and I wanted to be a part of that legacy and influence other kids."
In order to be an FFA advisor, you must be a teacher of agriculture. So for the past 23 years, John has been teaching at Toledo High School and advising the local FFA. In order to be eligible for FFA, students must also be enrolled in some type of agriculture class at their middle or high school. John says most middle schools no longer have these programs, so the kids don't get to start until high school.
His wife, Jennifer, is no stranger to animals either. She did 4-H growing up, showing almost every kind of animal from horses to cats, so she was all for her children continuing the tradition of raising and showing livestock. "They've shown in 4-H since they were old enough and now three of them are all old enough to show under their dad's FFA program which is pretty cool," says Jennifer.
The New Generation
Carrying on her father's legacy, Alexis, who is 15-years-old, has a Black Angus steer that she will be showing at fairs this year. She started out with pigs and then moved to Angus a couple years ago. Her first year, she won Grand Champion Market Steer in their weight range.
"I started doing FFA because of my dad," Alexis says. "When I was just starting to walk, I remember being taken on trips where my dad was judging and to the agriculture teacher conferences. We've gone as a family ever since I can remember."
Aside from being a family tradition, Alexis really enjoys FFA. "There is a lot of leadership experience and skill learning that I really like," she explains. The FFA program is not just about showing animals. The youth also attend agricultural conferences and workshops that teach them life skills including public speaking, job interviews, resume writing and livestock judging. For these, you do not need to have an animal.
The experience that Alexis has gained is obvious. She is extremely articulate and confident about being interviewed and seems relaxed speaking to a complete stranger. Her experience in FFA has led to a class officer position at Toledo High School and she is the vice president of their FFA. Alexis is thinking she may be a veterinarian when she graduates, but isn't sure she wants to do all that schooling.
This year, 13-year-old twins Macy and Marissa are officially old enough to be in FFA, and they could not be more excited. Aside from raising rabbits, each has their own market pig.
"I'm pretty new to it, but I really like livestock judging and the conferences because you get to travel," says Marissa. "The fairs are fun too." Her twin, Macy, agrees. "We both love showing our pigs," Macy adds.
Their youngest daughter, Sarah, is six this year and involved in 4-H. She had her first experience showing a rabbit last year. "I liked it, except for when he peed on me," she says with a shy smile. But she got a Sportsmanship trophy for her effort and is looking forward to showing again. "It's good for kids to start with 4-H because it's a lot more supervised," Jennifer explains. "Then, by the time they get to FFA, they have had some similar experiences and can be more independent. A lot of John's kids are showing their animals all by themselves, with no parents around, so having that prior experience is helpful."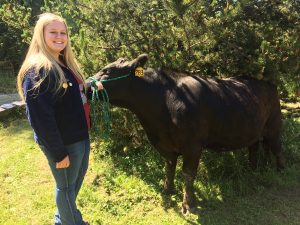 "I am really excited about showing FFA this year," says Macy. "And I am looking forward to being on my own more, with more freedom than I got in 4-H."
All the girls like having their father as a leader, because they say it makes them feel more comfortable when going to conferences, workshops and judging trips, since he goes too. Though they do admit he embarrasses them sometimes, like all dads do.
The Ball family will be attending a few fairs this year, including our own Southwest Washington Fair, so be sure to stop by the pig, rabbit and cow barns to see their beautiful animals. Be sure to ask them questions, they love talking about their animals and the FFA program.