Fourteen-year-old Giovanny Garibay plans to dance with the Royal Ballet in London someday. For most teens, this would be nothing more than wishful thinking, but not so for Giovanny, a talented young dancer from Centralia's own Ballet Academy.
Rising Star
Gio is tall for his age and already has the long, athletic lines of a ballet dancer. He's polite and outgoing with a charming smile.
When he started dancing two years ago, Gio quickly showed signs of true talent. Even at his young age, he's already danced roles in "Cinderella," "The Nutcracker," "The Sorcerer's Apprentice" and in Centralia College's recent production of a "Fiddler on the Roof."
All his hard work is paying off. This year, he received a full scholarship to the Oregon Ballet Theater's prestigious six-week summer intensive program.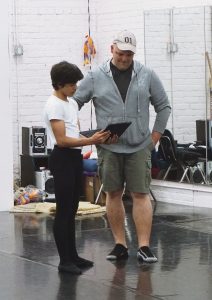 "It's an incredible opportunity," says Mick Gunter, Gio's dance instructor and a co-owner of the Centralia Ballet Academy. "He's very talented and has a work ethic that you don't see in adults twice his age. To get in [to the summer intensive program] is one thing, but to get a full scholarship there is an incredible achievement."
During the six-week program, Gio will study ballet, jazz, contemporary and Flamenco dance. He'll also take classes in yoga, Pilates and nutrition.
For a talented young dancer like Gio, the Oregon Ballet Theater's summer intensive is a big step, one that will surely lead to other opportunities.
"Dance companies travel around the country in January and audition people for their next summer intensive," Mick explains. "Next year, if he wants to study with the Joffrey Ballet in Chicago or the School of American Ballet in New York, it's pretty much a given that he'll be accepted, probably with a full scholarship."
"I'm so proud of him," says Gio's father, Salvador Garibay. "I want him to follow his dreams and I support him 100 percent."
Salvador explains that Gio is a natural athlete. "He was amazing at every single sport he played. He started playing tee-ball, then baseball, then soccer, wrestling and football."
Gio looks at me modestly. "The only sport I haven't played yet is basketball."
"He's a good kid, good behaviors at home and likes to help the other kids, too," his father adds. Gio also plays piano, guitar and violin. With all those talents, is it any wonder he has big dreams?
Older male ballet dancers provide Gio's inspiration. Some of his favorites include: Jorge Barani, principal dancer for the Kentucky Ballet Theater, Sergei Polunin, freelance principal dancer who has danced for the Royal Ballet, and Mikhail Baryshnikov, the famous Russian ballet dancer and choreographer.
Centralia's Ballet Academy
Mick and Nancy Gunter's Centralia Ballet Academy provides students with a classical dance education for an affordable cost. It's a fun and positive environment where children learn ballet, jazz, tap, contemporary, Pilates, and take tumbling, acrobatic, and stuntman workshops.
"Gio came in doing our boy's class," says Mick, "He's done all the types of dance we offer except for tap. He's also helped out with his little brother in the youngest class."
Mick and Nancy also run the Ballet Theater of Washington, a not-for-profit company offering dance outreach programs across Lewis County. "We give kids a chance to experience dance who, due to geography or finances, might not get to," Mick explains.
The outreach program gave Gio an opportunity to be a role model for kids learning to dance in Pe Ell last year. "It was really fun," he says. "It was quite amazing to see how the kids progressed even when they'd never danced before."
A few years from now, Gio will likely be dancing with some illustrious company either here or in Europe. But for now, he's happy with his teachers in Centralia. "I know one thing for sure," he says, "if it weren't for my family, and for my teachers, Mick and Nancy, I wouldn't be where I am right now."
Mick is understandably proud of his talented young student and excited to follow Gio's advancing career. "A lot of our students don't become professional dancers. Gio's an exception. I know that our time with him is short. He'll be moving on to this incredible career and Nancy and I will be on a plane to see him perform whenever that is."
To find about more about Giovanny Garibay and the Centralia Ballet Academy, contact Mick or Nancy Gunter at the Centralia Ballet Academy, which is located at 413 North Tower in Centralia. You can reach them at 360-623-9010, by email at info@centraliaballet.com, via their website or on Facebook.