It's common knowledge that attorneys work long hours. But Jakob McGhie has always found time to volunteer with many organizations that help others. Even before joining the law firm of Althauser Rayan Abbarno as an associate attorney, Jakob volunteered for Washington Moderate Means Program, the Center for Justice and the Spokane County Prosecuting Attorney's Office. His work earned him a Pro Bono Distinction honor from Gonzaga University School of Law.
In 2014, Jakob joined Althauser Rayan Abbarno where he focuses on felony and misdemeanor criminal defense, traffic infractions, firearm rights restoration, and the expungement and sealing of criminal records. Even with that workload, he wasted no time finding ways to give back to the Lewis County community and beyond. "When it's important to you, you find the time," he says.
He is now vice president of the Washington State Bar Association Young Lawyers Committee for the Greater Olympia region, and on the board for Young Professionals of Lewis County, Washington Association of Criminal Defense Lawyers and the Centralia Downtown Association.
As part of the Young Lawyers Committee, Jakob is currently working on organizing a summit with the Oregon Bar Association to address new lawyer retention, recruitment and the transitioning of retiring rural attorneys with new lawyers.
"This is clearly an issue that is Lewis County centered," Jakob says. "We need to find ways to show new attorneys that our region and community is a great place to relocate and make a living. If rural communities can't attract and retain new young professionals, many clients, including low-income clients, may not receive adequate services."
A Strong Defense
A strong defense is not only good for the Seattle Seahawks! As a criminal defense attorney, Jakob ensures a client's constitutional and statutory rights are preserved. "Everyone has a right to a criminal defense and I make sure every avenue is explored and every rock is turned," adds Jakob. "There is a lot on the line when you are charged criminally, including the right to possess firearms. If you've been charged with a crime or traffic infraction, you want an attorney who focuses on criminal defense; not someone who merely 'dabbles' in it."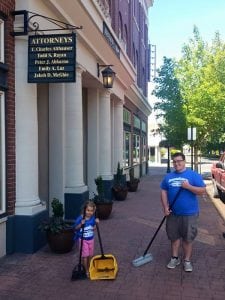 "I'm contacted by a lot of individuals who have been charged or convicted of crimes in the past that can't find a job because of their record or are prohibited from hunting because their rights were taken away," Jakob says. "My practice helps these people be employable and get housing by clearing their records and restoring their rights through processes allowed by law."
This means he stays with his clients after the trial to help them with anything they will need later. Whether he represents their case or not, Jakob can help those in need get their rights restored after a conviction.
"I've always taken the approach of being the holistic lawyer," he explains. "And anyone in our firm is going to be like this – it's why we are a full-service firm. You aren't hiring us just to do this one thing, we are going to try and take care of everything you need. Sometimes representing your client means not just looking at the elements of the crime they are charged with or writing out the barebones of a will, but actually looking at their whole situation and seeing how you can guide or advise them to take the steps that are going to help them in more than just one way. That's what sets us apart."
For more information, visit Althauser Rayan Abbarno or call their offices at 360-736-1301 (Centralia) and 360-352-1134 (Olympia).
Sponsored