Adna High School boys basketball coach Luke Salme traditionally gives his players 24 hours to get over a loss. Salme changed this line of thinking, however, following the Pirates' defeat in the regional round of the Class 2B playoffs.
"We told them to get over this one right now," Salme said.
And the reason?
"We're going to Spokane and now we know we're playing on Wednesday," Salme said. "There were some grins in the locker after I said that."
For the first time in five years, Adna is heading to the Spokane Arena to play in the state tournament. The Pirates (20-6) will face Tonasket (16-11) in the first round on March 1. Game time is scheduled for 10:30 a.m.
"They were bummed about not winning," Salme said about his team's 65-36 setback to second-seeded Life Christian Academy at regionals. "But we're still going to where we wanted to go. This one stings a little bit. We talked about that, but we also told them we've earned what is about to happen in a few days. We will be ready. I can say that about the guys. If we go down, it won't be without a heck of a fight from these kids."
The Pirates, seeded seventh in the tournament, play No. 15 Tonasket in a loser-out contest with the winner advancing to play top-seeded Kittitas in the quarterfinals. The Tigers defeated No. 10 DeSales, 62-54, at regionals.
After a one-point loss to 2A Ridgefield in the Pirates' season opener, Adna has lost to just two programs – twice to Central 2B champion Napavine, including a one-point loss in their most recent meeting on January 25, and three times to Life Christian with two of those defeats coming in the postseason as the Eagles (25-1) also knocked off Adna at the district tournament.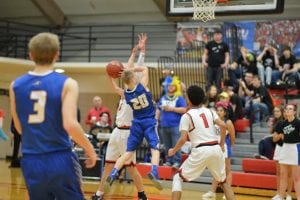 "We played a tight game with them earlier in the year. It wasn't our A game (at regionals against Life Christian), and I think it was their A game today," Salme said. "A year ago few people would have said we would be going to state this season. It's a testament to a group of kids who have worked their tails off and have been committed since last March to get to where they are at."
The Pirates saw their season end at regionals last year, losing to eventual third-place finisher Brewster.
"There was some success last year and this group worked to improve on that. It's just a really gritty group who just get along well," Salme said. "In the offseason, they get in as much playing time together as they can. They were always getting in the gym. It's a special group."
Junior point guard Cody Young has set the tone all season for the undersized Pirates with the rest of the roster following suit.
"He's as fun a player to coach as I've ever had. That's a first-team all-league kid. He's all energy and toughness, all 5-foot-5, 115 pounds of him," Salme said about Young. "He's a blast to coach. If he's on the court in a drill or a scrimmage, in practice or in a game, it's impossible for you to not go full speed because he's going so hard all the time. It gets the other players going. You better at least be trying to keep up with him."
Joining Young on the first-team of the Central 2B all-league squad was teammate Tanner Rigdon, a 6-1 senior guard, while junior teammates Conner Weed and Blake Davis earned honorable mentions.
"We're excited for Spokane," Salme said. "Monday's practice will be fiery and intense. There will be some battles. It's what makes it fun as a coach."
The Pirates are one of three teams from the Central 2B League headed to Spokane. Joining Adna at state will be Napavine (23-2) and Toledo (19-6).
Napavine, led by league MVP Wyatt Stanley, defeated No. 6 Seattle Lutheran, 67-48, at regionals to advance to the quarterfinals where the Tigers await the winner of No. 13 Liberty (Spangle) and No. 4 Brewster.
Eighth-seeded Toledo, a 71-61 loser to No. 1 Kittitas at regionals, will play Chief Leschi in a loser-out game in the first round with the winner advancing to meet Life Christian.
Napavine will have both programs compete at the state tournament as the Tigers' girls' squad is also heading to Spokane. The Tigers knocked off Adna, 55-42, at regionals with junior Mollie Olson scoring a game-high 26 points and pulling down 11 rebounds for Napavine, which had lost its three previous meetings against the Pirates this season.
Napavine (16-10) plays Davenport in the first round with the winner meeting No 8 Colfax in the quarterfinals. The Tigers lost in last year's state championship, 60-51, to defending titlist Okanogan.