You've made it through the holidays and gotten all your shopping done. Now you're ready for a well-deserved break.
But wait! Suddenly, you have holiday cash to spend on yourself. Where do you spend it? And on what? When you try to think, your mind goes blank.
Lewis County has a lot of great shopping options. From large outlet stores to small, specialized boutiques, there's something for everyone. What follows is a short list of great items you may have missed during the frenzied holiday shopping season.
The Arts
At Book 'N' Brush in Chehalis, you can pick up the latest volume from a local author, buy new art supplies, or sign up for the next Coloring & Cocktails event. If you have something you need framed, Colorplak gives your photos a professional look at a fraction of the cost of traditional framing.
Centralia's Rectangle Gallery and Creative Space displays artwork from Lewis, Thurston and Cowlitz County artists. Some of the gallery's smaller pieces are easily overlooked in favor of larger paintings and sculptures. Tonie Kuntz makes bowls, wall art and sculptures out of cement. They're surprisingly lightweight. The pieces are treated with stains and pigments to resemble elegant pottery. Bob Espen makes hand-turned, functional wooden pieces — rolling pins, delicate bowls with gold leaf centers, and tiny oil lamps made of maple-wood which burn for four to five hours.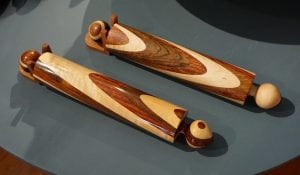 Embody Movement Studio & Lifestyle Boutique offers beginning and advanced classes in Yoga, Nia, and Tribal Belly Dance. The boutique sells apparel, jewelry, and natural skin care lines by Andalou Naturals, Kuumba Made® and Jane Iredale makeup.
Treat Yourself
At Beautiful Skin you can soothe away your cares with an herbal body wrap or massage. They've also got a full-service skin care boutique offering facials, chemical peels, waxing, lash-extensions, and derma-planing.
The Bath Depot, a small in-store shop in the back of The Shady Lady, sells a selection of soaps, lotions, and other luxurious indulgences. They have several locally sourced product lines, including non-drying sheep milk-soaps from Harmony Heritage Farm, cold-process soaps from Inky Quills, and Dirty Man Soap Company's beer soaps with appealing names such as "Cream Stout," "Danger Ale," and "Lava Rock Porter."
Fashionable Furnishings
Looking to brighten up your kitchen or table? Fruffles in Centralia has hand-blocked, patterned cotton table cloths and Le Souk Stonewear ceramics. If your budget is more modest, you can pick up any number of handy kitchen goods like herb scissors, butter warmers, or even a new cookbook or two.
Across the street from the Fox Theater, Gracie's boutique specializes in women's clothing, shoes, and accessories. If you're looking for some sparkle, Holly Yashi Jewelry features Swarovski crystals and pearls, Bohemian and dichroic glass, and uses only hypo-allergenic metals.
Hubbub, at the far end of Tower Street in Centralia, has eclectic Maruca Design handbags, SolMate's colorful, patchwork-patterned socks, hats, and fingerless gloves, and Sockwell Therapeutic's cashmere bamboo socks that help reduce fatigue and prevent leg soreness.
Creative Crafters
Centralia's Bead Opus sells more than just beads and jewelry findings. Singing bowls and salt lamps will turn your home into a Zen retreat.
The Twin Cities area has two yarn shops, Loose Ends Fiber Arts in Centralia and Ewe and I in Chehalis. Both offer classes as well as a selection of yarns. Ewe and I has a lunch café that features Black Sheep cheeses, home-made soup, and biscuits. Behind the glass at the back of the shop, you can see the cheese being made. At the other end of the store, a long wall of lusciously colored yarns and wools are another sort of sensual feast. (And yes, they encourage you to feel the cashmere.) In the center of the shop, a comfortable seating area gives knitters and spinners a chance to share stories and advice.
For the Pets
Amongst its wide inventory, Centralia's Tower Trading Co. sells luxury items for pets. 4 Legz Crunchy Dog Treats are 100% non-GMO and good for dogs prone to skin rashes and tummy upsets. Pinot Meow is a catnip-based wine for cats and is officially sanctioned by shop cat, Ari.
Down the street on Maple, Dogz Downtown offers all-breed dog grooming services including bows for the girls and bandanas and cologne for boy dogs.
Pioneer West has a large in-store pet department and offers pets for sale. The talking birds will greet you when you come in the door, but don't forget to look at the other pets too: fish, reptiles, rabbits, guinea pigs, and hamsters to name a few.