What do you think about when buying a car? The price – definitely. Make and model – that's probably next. Then features like color, leather seats, and maybe gas mileage if you have a long commute. Chances are, one of the last things that comes to mind is where the vehicle comes from. Most of us really don't care, as long as it's a good deal. Awesome Ford – and all the members of the I-5 Auto Group – want to change the way we buy cars. They foster relationships that earn repeat customers, and it all starts with how they treat their staff. Just ask Gavin Sutherland, who has been a sales associate for Awesome Ford since 2012.
Gavin was a chef looking for a career change. He was tired of the challenging schedule and managers who didn't really care about him.
"Your only family were the four guys down the line," Gavin says. "The manager would watch you drown in your own mess, yell at you, and then go back to his office."
His father-in-law works for Awesome Ford and suggested Gavin work there as well. "My father-in-law has worked for many dealerships over the years and this was the first one he said was a great company and he'd be totally fine with his family being a part of it."
And he's not alone. Gavin says the other employees who have come from other dealerships have all said the same thing. "This is by far the best dealership that they've ever worked for as far as how employees are treated," he adds. "From management all the way down to the detail kids, we are all treated with the same respect."
Unlike his experience as a chef, the managers at Awesome Ford (and the entire I-5 Auto Group) respect and care for their employees, regardless of how long they've been in the industry. Gavin says those who have been in the industry longest are happy to show newcomers the ropes and help them when they can't figure something out.
The managers have no problem coming out and sitting down with the customers if there is a problem or if assistance is needed on a deal. "The way Heidi Pehl and Chris Hardesty run the company, it's not your typical car dealership," Gavin says. "They make it so comfortable and easy to serve the customers."
Gavin helped open the Awesome Ford location, which started out with an inventory of just one car and 10 trucks. Today, they have over 200 new cars and trucks and a huge inventory of used vehicles. Growth like this in such a short period of time does not happen unless your employees are dedicated and your customers keep coming back. Gavin explains that the managers' positivity and support are evident in the passion and respect that the employees share with their customers. Awesome Ford has developed a unique business model in which customers can expect the small town "everyone knows your name" feeling while enjoying the benefits of a large dealership that's capable of meeting anyone's car needs.
"Even though we've gotten really big, we still carry that mentality of small-town customer service and customer care," Gavin says. "We always remember where we come from."
This means that every customer who walks through those doors is treated like family. The associates go above and beyond to make sure they find the vehicle that meets their needs. If it's not on the lot, they will find it and bring it in. The staff at Awesome Ford can even do factory custom orders for people who want to design their own vehicles.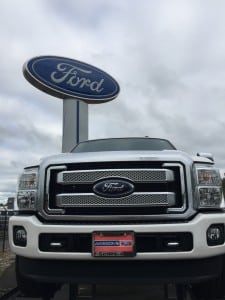 All the associates are well-trained and certified through the Ford education program. Gavin and Kip Barker, another sales associate, are master-certified since their completion of voluntary continuing education courses.
Once the papers are signed on a car deal, associates at most dealerships are done, but not at Awesome Ford. Gavin explains that car owners often accessorize and upgrade their new vehicles, and the employees will do the leg work to make sure that they receive the products and services that they want. The dealership has a close relationship with LineX bed liners, for example. Gavin says that he can call them up personally when a customer wants a liner and send them over to have it installed.
One of the best features of Awesome Ford is its affiliation with the the I-5 Auto Group. Gavin explains that you can meet with him on the Ford lot and, if you decide to test drive a different brand for comparison, he can take you to one of their other dealerships and show you what they have. You don't have to deal with multiple salespeople; Gavin can even sell you an RV! Imagine car buying with your own personal shopping assistant!
For more information, visit Awesome Ford's or I-5 Auto Group's website. You can also call Awesome Ford at 888-428-3399 (sales) or 888-959-111 (parts).
Sponsored