Max Vogt says, smiling, "there's art in the middle of Centralia but it's spelled backwards, and you have to look for it."
As the owner of Windermere Centralia real estate company, Max is hoping to see an increase in the number of houses and studio spaces in Centralia purchased by artists.
"Centralia is the next destination," he says. "Artists are being pushed out of Seattle and Portland. In those cities, whether you're a gallery owner or an artist who wants to hang work in a gallery, you have to pay enormous expenses, and often you're paying out of your living expenses."
"To buy and invest in a gallery, home or studio space with low overhead, between Seattle and Portland, can be done here," says Max.
Jan Nontell, founder and owner of Rectangle Gallery and Creative Space, recently bought and opened her gallery space downtown.
The gallery currently features the artists of Lewis and Thurston Counties. "It's the same quality of art – maybe even better than you will see in larger communities," she says, sweeping her hand to demonstrate the pieces on display.
As a cooperative gallery, Jan's goal with Rectangle Gallery is to provide wonderful, original artwork for collectors and art lovers everywhere, as well as studio space and storage areas for individual artists in the community.
An artist herself, Jan says the quality of life in Centralia is perfect for her. "It's an incredible place to create," she says. "The people are amazing and the possibilities are endless. The beauty of the area is inspiring and the slower pace allows for time to create and dream.
"It's also great place to raise your kids," she says. "They can run free, can play outside until the time the sun goes down, playing, laughing, running around, just like we did."
"Once more artists discover the vacuum of space available for artists here, there's going to be a rush to fill that," Max says.
Max is not only a Centralia business owner, but he also serves on the city council and is proud to be part of a council that encourages artists in their way of life.
"Art is an economic generator for any town," Max says, "and the council here understands that. People are coming here from other places because of the value of the real estate here. New people are moving here – artists and creative people, people who work from home, retired people—and they want art, and they want Centralia College, and the Fox Theatre. They want to contribute to a small community that's vibrant. And that's what we have."
Max helps real estate buyers find their space in Centralia. He brings decades of experience in Centralia real estate to his clients.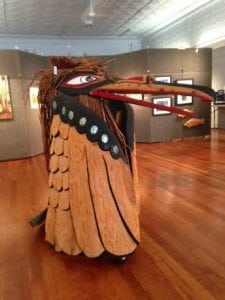 "You can be successful even without a lot of money," he notes. "In Seattle you have to make a certain amount of money even to have a small apartment. Here, you don't. Real estate is more inexpensive—you can buy a home for a quarter of what it costs in Seattle."
Jan nods her head in agreement. "Or studio space," she says. "If you're an artist, or you want to rent space, you would pay five to six times as much in Seattle."
"This is the beginning of the renaissance," Max says.
Rectangle Gallery and Creative Space
209 N Tower Ave in Centralia
www.therectanglegallery.com
360-669-5918
Sponsored