Off exit 79 on the I-5 corridor stands a non-descript former saw shop which now houses Joy's Once Upon a Thyme. "In February, it was eight years since I opened with Holly Phelps, owner of The Shady Lady. She came for a year," said owner and chef, Joy Templeton.
"Holly is like a fairy when it comes to going out and making things happen. She's helped me out a lot," said Templeton.
The once Bohemian atmosphere of a combined luncheon and eclectic chic retail space has slowly transformed into rustic, country charm. "It is very different from what I started out as. It morphed based on demand," Templeton said.
In the beginning, it was a "one girl show" when Templeton first opened. "I cooked, sold, waited, and cleaned," said Templeton. As the business and customer base grew, and as she could afford it, she expanded without going into debt.
Templeton and Phelps first started out offering a mix of furnishings and home décor items surrounding a lunch time dining place, occupying only about one-fourth of the building where Templeton rents space. "Now I operate the whole building," said Templeton.
Her expansion includes monthly cooking classes, a retail store in the back, a garden on the side, and office space upstairs. She even moved a fence behind the building to provide more parking.
The success of Once Upon a Thyme has been largely due to word of mouth advertising. "I'm known by reputation for where I've been, and word of mouth," Templeton said. She started out with a small café inside Jeremy Wildhaber's Healthy Harvest long before he opened Jeremy's Farm to Table. For a short time, she operated Basil Leaf Bistro in Chehalis next to the post office.
Arlene Pauly of Winlock has been coming to Once Upon a Thyme for years and enjoys the carrot cake. "It's lots of goodness," she said referring to the salads, soups, and desserts.
Initially, Once Upon a Thyme was dominated by female lunch diners. "It took a while to get men in here, a couple years," Templeton said. "My business has grown because of Trip Advisor and Yelp."
David Mack of Seattle discovered Once Upon a Thyme while on the road for work. "I did a voice search for healthy options on Google maps on my phone and this was the first place that came up. I'll definitely come back," Mack said.
Regular Glen Nelson, a wholesaler from Loggers Wear, comes every day to Once Upon a Thyme for lunch. "All I have to do is walk across the street," Nelson said. "I love the chicken Caesar wrap."
When Once Upon a Thyme first opened, Nelson was skeptical. "With business everything is about location, location, location. I didn't think it would work," he said. Templeton joked, that the kitchen staff make bets as to what Glen will order each day. Nelson, who is aware of this, tries to fool them.
With a menu that varies daily, diners can visit often and always taste something new and tantalizing. Templeton makes everything from scratch. Her recipes are original or modified versions of other recipes she's tried. "If it's not from my kitchen, I make it mine," she said. One of the ways Templeton accomplishes this is making the recipes more nutritionally dense. "I want to make it count. I do it this way because that's where my heart is," said Templeton. She's apt to blend kale into a soup base or put quinoa in the background of a main dish, noting that quinoa is a complete amino protein. She also uses several sources such as local growers and the Olympia Food Co-Op to ensure ingredients are organic, fresh, and free from irradiation and genetic modification. "I get a couple of my breads from Eric at The Market Street Bakery. I've got someone growing horseradish for me here," Templeton commented.
A steady and expanding selection of sandwiches and wraps are offered consistently. The variance comes in the salads and soups and to a certain extent, the desserts. "The soups and salads change every day, sometimes the desserts. I run specials for hot foods and sandwiches, otherwise I'd get bored. I come up with new ideas every day," said Templeton.
One of the thrusts behind serving food that is fresh stems from her personal diet changes. Templeton is a recent breast cancer survivor. With a smile on her face, she confidently reported, "I got my port out last week," referring to the way she received chemotherapy treatment. Templeton comes from a family with a history of breast cancer. She joins a sister and an aunt who have survived, while another aunt and both her grandmothers were not as fortunate.
Templeton wasn't experiencing any particular symptom that alerted her of a problem when doctors discovered the cancer last year. "I had been doing mammograms for years and was done with that. I went for a thermogram in Portland," Templeton said. She put her confidence in oncologist/naturopath, Dr. Cynthia Bye.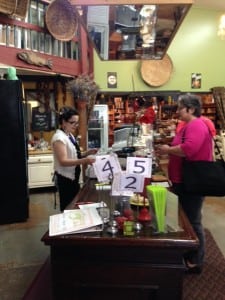 "I never once thought, 'Oh my gosh! What am I gonna do?' I took a month to think about it," she said. While she thought, she continued to work, eventually opting for both traditional and non-traditional treatments, doing a combination of radiation, chemotherapy, and acupuncture. She worked consistently before, during and after treatment.
Templeton admits to being more tired now, but she keeps "pushing through." Even though she "wears all the hats" in her restaurant, she has five other full-time employees and one part-time employee "I've got a great staff. I mostly hire women," she admitted. "I was a single parent and worked when my kids were in school." She is conscientious about the flexibility women need to earn a living while still being available for their children. "I'm drawn to helping women," Templeton added.
She has been asked many times if she would expand her hours to include dinner and weekends. "I work long days just to do lunch," Templeton said. Between planning, prepping, cooking, serving, and shopping, Templeton puts in ten to twelve hour days five days a week. Patrons can bring a few select menu items home to enjoy when Once Upon a Thyme is closed. Some of Templeton's recipes are available for sale. "It takes a special license from the Department of Agriculture to sell the soup mixes I make," she said. Soon, her basil salad dressing will be on the shelves.
With all that on her plate, she admitted with a mirthful smile, "I have bigger plans."
Once Upon A Thyme
1090 NW State Avenue
Chehalis, WA 98532
360-740-8944
Hours: Monday – Friday from 10:00 a.m. – 3:00 p.m.