The typical wait-till-next-year mantra is over. As seniors, there's no tomorrow for either Joe Finch or Christian Smith.
They're down to their last hurray. And that's what made their final chapter on Centralia High School's wrestling team so special. They're both making the most of it.
"There's no more 'next year,'" Smith said at recent wrestling practice. "That's gone. So I'm giving it everything I have now."
Driven by this attitude, both wrestlers are experiencing memorable seasons. With a 29-2 record, Finch is ranked number one in the state for the 2A Classification at 182 pounds. His two losses came against out-of-state opponents, so he's undefeated – 29-0 – against Washington wrestlers.
His success is a payoff to his hard work.
"I just kept working hard through the summer," Finch said. "I realized that this was what I needed to do – what I needed to do to achieve a goal, and a state title. Just keep working hard."
Setting a goal, saying he wanted to win state, wasn't enough. He knew he had to work on technique, conditioning and strength. He didn't just dream about winning. He worked hard.
"I started watching a lot more wrestling technique and tried to expand my knowledge of the sport," Finch said. "I just worked hard."
That meant going to every summer camp, every workout.
"He's made a lot of improvement," said Scott Phillips, Centralia's wrestling coach. "He wrestled all summer. He showed up to everything. He wrestled with coaches. He worked hard."
Last year, it was anything but a memorable moment for Finch. A week before sub districts, he went to the doctor to have an abscess – cellulitis – on his leg drained. No one would have blamed Finch for quitting, but he gutted it out. He qualified for state, but he didn't win a match at state.
"The back of his hamstring was swollen up about five inches," Phillips said. "It was a pretty painful thing and he wrestled with it."
Finch, who was a first-team, all-league pick at linebacker and punter on the Tigers football team, is making the most of his final year. He's hoping it's not his last time wrestling. He hopes to wrestle in college.
Smith is learning to keep the peddle down as he wrestles. Last year, he had a tendency to be hot and cold. Now, with a 24-8 record, he's more focused.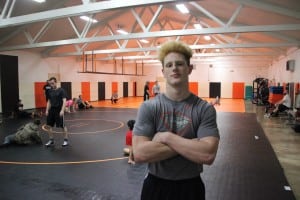 "I'm giving it everything I have now," Smith said. "This is it."
In a sport where the counter move is often the winning move, Smith has added some moves to his wrestling rapporteur. But he's focused more on precision.
"All the fancy moves, those are cool, but it's the little things that are really important and make the difference between an average wrestler and a state champion," Smith said. "It's not the big splashy throws, those kind of things."
Strength is also a factor. To get better, Smith hit the weight room. And besides getting stronger, he also got bigger, bumping his weight class from 138 last year to 160 this year.
"I've definitely gotten stronger," Smith said.
Three years ago, Veronica Chigo-Vlazquez first asked about turning out for girls' wrestling team at Centralia. And she got just the prod she needed to turn out.
"Someone told me it was hard and that I couldn't do it, so I did it," said Chigo, who is now a senior on the team and a two-time state qualifier. "For the first two weeks I didn't like it, but now I love it."
The diminutive Chigo, who is 4'10", has played basketball, volleyball, soccer and ran track, but wrestling is her favorite.
"With wrestling, it's like I found a family rather than a team," Chigo said. "We really all go through everything with each other, whether we're dead on sprints or whatever. We support each other."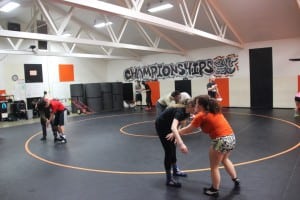 Like Finch, Mykka McAllister knows about disappointment. Last year as a freshman, he was the top seed at his weight class going into sub districts. But at the weigh-ins, he was just 3/10ths of a pound overweight, knocking him out of the competition. Determined to make the most of it, McAllister is 24-8 at 120 pounds.
"It was frustrating," McAllister said about missing weight last year.
But now McAllister is making the most of another season, another chance.
That's one of the life lessons Phillips hopes his wrestlers get from turning out. For Phillips, a 1996 graduate from Centralia High School and in his tenth season as the Tigers head wrestling coach, wrestling is about more than just winning, more than having your hand raised at the end of a match.
"We've got some kids who aren't real successful at the sport right now," Phillips said when asked about the life lessons of wrestling. "But like I tell them, it's not always about winning and losing – sometimes it's about making you a stronger person overall."
It's about learning how not give up.
"Wanting to give 100 percent even when you're not super successful shows you're not quitting on yourself," Phillips said. "Wrestling teaches you a lot of life lessons that you can carry on. Things you can apply to your life. It's a great sport – makes the kids a lot stronger human beings."
And that's why Phillips is so passionate about coaching, about why he's at every practice, every tournament and match ready to go. He's not teaching kids just about take-downs. He's also teaching about work ethic, about life lessons.
"I love it," he said.