This community events calendar is the place to find fun activities and things to do throughout Lewis County, including Centralia, Chehalis and beyond.

Sep
18
Wed
"We're Still Here" The Survival of Washington Indians – Museum Exhibit

@ Centralia Timberland Library
Sep 18 @ 2:00 pm – 4:00 pm
This fall the Centralia Timberland Library is hosting a museum exhibit on loan from the Karshner Memorial Museum in Puyallup, WA. Drop in for dedicated viewing times on Mondays from 10:00 AM to 12:00 PM and Wednesdays from 2:00 PM to 4:00 PM September 4th through October 9th.
This exhibit – titled "We're Still Here" The Survival of Washington Indians – presents issues, challenges and successes that Washington Indians have experienced through the years in Washington State. It highlights the conflicts over land, identity, sovereignty, fish and cultural preservation. The exhibit also shows how tribes are successfully passing on the culture to future generations. The exhibit was created with the advice and input of tribal leaders and authorities from around the state.
This program is part of Timberland Reads Together, featuring "There There" by Tommy Orange and Native Voices, focused on Indigenous Peoples history and culture.

Sep
20
Fri
Women of the Woods Rewilding Retreat

@ Camp Singing Wind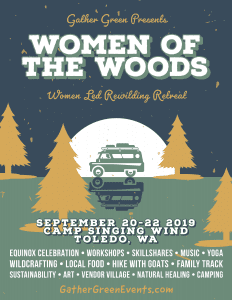 Gather Green, a local women powered sustainable event planning company, is hosting a women-led rewilding retreat, Women of the Woods, September 20-22 at Camp Singing Wind, in Toledo, WA. Over 250 women from the Pacific Northwest will attend to celebrate sustainability, nature, natural healing, art, and community building. All presentations and vendors are women led.
Lyla June and Bibi McGill are headlining the event. Lyla June is a nationally and internationally renowned public speaker, poet, hip-hop artist and acoustic singer-songwriter of Diné (Navajo) and Tsétsêhéstâhese (Cheyenne) lineages. Her music and message centers around intergenerational and inter-ethnic healing, as well as an articulation of Indigenous Philosophy. Bibi McGill is a DJ, producer, musician, and yoga instructor from Portland, Oregon. Bibi served as Beyonce's lead guitarist and musical director for almost a decade, leading the ten-piece all female band that literally rocked the world.
Many skilled and engaging women will be presenting at Women of the Woods in the tracks of art, healing, sustainability, and connection with nature. A land blessing will be performed by the Cowlitz Tribe and an equinox celebration will be held Saturday evening. Music, yoga, and hiking with goats will also be a part of the retreat.
Camping for the weekend retreat will be held onsite at Camp Singing Wind, an ex-Campfire Girl camp with over 180 acres of natural beauty.
Tickets are available on a sliding scale basis. More information about the retreat can be found at www.gathergreenevents.com. Vendors, sponsors, and musicians are still being accepted for this event and can contact Gather Green through their website, Facebook page, or Instagram.

Kerry Grombacher- Western Troubadour

@ Vernetta Smith Chehalis Timberland Library
Sep 20 @ 2:00 pm – 3:30 pm
Dick's Tasting Room

@ Dick's Brewery
Sep 20 @ 3:00 pm – 7:30 pm
LGBTQ Teen Book Club

@ Centralia Timberland Library
Sep 20 @ 4:30 pm – 5:30 pm
Dive In Theater

@ Thorbecks Fitlife Centers
Sep 20 @ 7:00 pm – 9:00 pm