Oct
17
Tue
Pub Quiz

@ O'Blarney's at the Gibson House
Oct 17 @ 7:00 pm – 10:00 pm
Oct
18
Wed
Toddler Time

@ Centralia Timberland Library
Oct 18 @ 10:30 am – 11:00 am
Lyceum Lecture Series

@ Centralia College East
Oct 18 @ 1:00 pm – 2:00 pm
Opportunity Tour

@ Downtown Chehalis
Oct 18 @ 4:00 pm
This guided tour includes vacant buildings and spaces available for sale and lease in downtown.  Dreaming of a business downtown or perhaps you're interested in real estate?  Simply curious about what is available? This is a great opportunity to check out what Downtown Chehalis has to offer in an informal, no obligation, open-house setting.
No RSVP necessary

Oct
19
Thu
Laying the Groundwork – An Introduction to Government Contracting

@ Holiday Inn
Oct 19 @ 9:00 am – 10:00 am
Book Babies

@ Chehalis Timberland Library
Oct 19 @ 10:00 am – 10:30 am
Children's Story Time

@ Centralia Timberland Library
Oct 19 @ 10:30 am – 11:45 am
Family Story Time

@ Mountain View Timberland Library
Oct 19 @ 11:45 am – 12:15 pm
Centralia College Lyceum Lecture Series

@ Roxy Theater
Oct 19 @ 12:00 pm – 1:00 pm
Great Washington ShakeOut & Contest

@ Washington State
Oct 19 @ 12:00 pm – 2:00 pm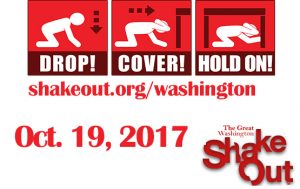 Question and Answer sessions with earthquake experts will be done using Facebook Live and Washington Emergency Management's Nextdoor account in the days before ShakeOut. On Oct. 19, earthquake preparedness experts from the Washington Emergency Management Division will join scientists with the Washington Department of Natural Resources and the Pacific Northwest Seismic Network to gather online for a Reddit Ask Me Anything – an online Q&A. The public is invited to ask questions here.
New this year, middle school and high school students are creating videos to show the best ways to drop, cover and hold on. Prizes are being awarded by our partners at the Cascadia Region Earthquake Workgroup. The deadline to submit is Oct. 13. More information found here.