There's so much to do in Chehalis! Fortunately, Twin Transit can help you access all the fun around town. You can hop on the bus throughout the Twin Cities on weekdays from 6 a.m. to 7 p.m., and on weekends from 7 a.m. to 4 p.m. And their door-to-door transportation program, DARTT, operates from 8 a.m. to 5 p.m. There's no reason not to get out and explore!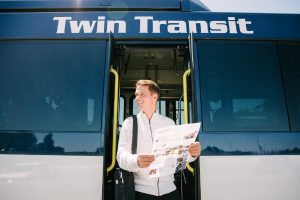 Pick your destination in Chehalis and plan the route with maps and timetables online. You can even track the bus in real-time with Find Your Bus. Or plan your journey with Google Maps Transit Directions. Simply open up Google Maps and enter your origin, destination and departure time. Then select the public transit option (located between the driving and walking icons). Your route options with detailed instructions will appear. Plan to arrive at your stop five minutes before the expected departure to ensure you don't miss your bus.
Need additional help? Just ask your friendly driver. They can help you get where you need to go. Or call the Twin Transit office at 360.330.2072; their helpful team will happily assist you in best planning your trip!
Explore Chehalis
Downtown Chehalis has a variety of fun stores featuring everything from books to art supplies, gifts, games, and more. The colorful city center is a vibrant tapestry of art, with murals dotting the main roads and back alleys. See if you can find them all; even the trash cans are a work of art!
Affordable and convenient, a trip around Chehalis is simple with a ride on Twin Transit. Adults can purchase daily or monthly passes right from their smartphone with Token Transit. It's only $2 for a day pass or $20 for the whole month. And don't forget – kids ride free!
If you'd prefer to book a DARTT ride, simply call 360.330.5555 by at least 4 p.m. the previous day.
If you have any questions, give the Twin Transit office a call at 360.330.2072; their helpful team will happily assist you in planning your trip!
Sponsored