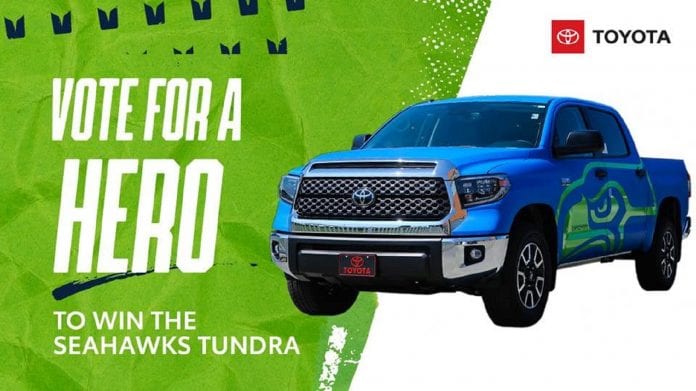 Submitted by Boys and Girls Club of Lewis County
The Boys & Girls Club of Lewis County (BGCLC) is one of the top 3 finalists in this year's Seattle Seahawks' Community Hero contest with voting closing December 7. The top prize in the contest is the fully loaded Seahawks branded Toyota Tundra that currently sits on top of the Toyota Fan Deck at Lumen Field. Runners-up will receive four (4) tickets and sideline passes to a 2021 home game.
"Thanks to I-5 Cars, we became aware of the program. I knew we had lots of incredible
supporters submitting nominations for us but considering how many well-deserving non-profit entities serve our state, it was still pretty shocking when I found out we were selected as a finalist," said Lauren Day, Executive Director of BGCLC.
BGCLC was selected out of more than 75 western Washington 501c3 non-profit organizations that have "excelled in serving the community during the pandemic". BGCLC's
Chehalis Clubhouse has remained open during the pandemic, first opening to the families of
essential workers in March during the shutdown, then resuming Camps in the summer, and now running full-day programs supporting members while schools resume modified schedules.
"Boys & Girls Clubs are normally primarily after school programs. We've now been
doing full day service since the end of March. Our staff has really risen to the challenge." Day said.
BGCLC has also partnered with the Centralia School District and the City of Centralia
with the use of CARES Act funding to open their first Club in Centralia at Jefferson Lincoln
Elementary School during the pandemic to address the needs of the Centralia community.
"Before the pandemic, we were planning on opening our first Club in Centralia in 2021.
When the pandemic hit we were able to work with the school district and the city to open an in-school Club with a couple of week's notice," said Day.
If the Boys & Girls Club of Chehalis wins the truck they plan to use it for meal deliveries,
transportation of goods between Club sites, fun incentive-based rides for members to win, and photo opportunities for guests at Club special events. "When things get back to normal we'd love to have it in one of our community's incredible parades," said Day.
People can vote for the Boys & Girls Club of Lewis County by visiting the contests and
promotions section of the Seahawks.com website by December 7.
Boys & Girls Club of Lewis County provides a fun, safe and constructive environment for
kids and teens during out-of-school hours. BGCLC has Clubs in Chehalis and Centralia and
provides programs and services that promote and enhance the development of boys and girls by instilling a sense of competence, usefulness, belonging and influence. Our Mission is to enable all young people, especially those who need us most, to reach their full potential as productive, caring, responsible citizens. For more information visit www.bgcchehalis.org.