Submitted by the Kincaid Family
Kayden Kincaid of Adna was featured in an article last year highlighting
his journey to be discovered and make it big in Hollywood. Kayden was originally selected out of hundreds of people of all ages to go to Hollywood for a chance to be discovered.
After auditioning with Arts International, a well-known talent
showcase, out of hundreds that auditioned he was one of 17 people selected
from Washington State to move forward and go to Hollywood. Kayden traveled to
Hollywood in December 2019 to attend the Arts International Showcase where he
showed his talents in the categories of monologue, scene, commercial, song,
photography modeling and improv.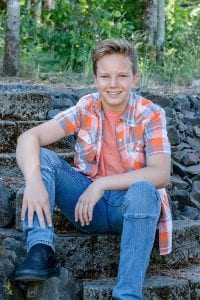 Kayden received high marks from multiple judges and advanced to the next level in every category. Kayden even participated in the gospel choir for the event and performed in the final showcase highlighting his monologue and song.
At only 11 years old, Kayden received such high marks to be selected as one of the top ten performers, out of over 400 adults and kids, to advance and perform for a huge audience in the week's final showcase performance. During the
performance, the participants showed their individual talents for the final judges who were a variety of talent agents, managers, movie and television producers and music industry producers. Each performer, including Kayden, had to receive
at least five individual "call backs" from any one of the judges or a multitude of others talent scouts in the audience to be able to have that final chance to make it in Hollywood.
Kayden received an amazing total of 18 individual call backs from multiple agents,
managers, producers and even a well-known music producer.
Kayden met with, selected and signed a three-year contract with Discover
Management L.A., which is one of the top entertainment and talent management
company's in Los Angeles.
Kayden's journey then began, overnight, by relocating to Los Angeles to start
auditioning for Hollywood's three month pilot season. Kayden auditioned for multiple
television shows, series and movies with his management team who worked
diligently to get him committed to a regular series role.
Kayden's journey was disrupted as a result of COVID-19 which allowed him to
return to his home in Adna. The pandemic has not slowed him down
from ongoing scene study with one of the top coaches in L.A. – Cynthia Bains Young
Actors Studio and has been developing multiple auditions in his home filming
studio and submitting the tapes to his management team to then submit to
Hollywood producers for potential roles.
Hollywood is big but this little shining star has a bright future!
Stay tuned…