Unemployment, closed stores and hungry mouths to feed. These are just some of the lingering effects of the COVID-19 pandemic. What can you do when you find yourself on the short end of a long month and the cupboards are getting bare?
The Lewis County Food Bank Coalition has been providing an answer to that question since the early 1970s. This is when local churches recognized the need some families had in getting food on their tables. At first, the Baptist Church (now Grace Church) provided space for storing the food, but then the food bank moved to a small building in a corner of the parking lot.
The building was cramped and drafty and soon outgrown. Another move to Yardbirds later still didn't provide adequate space. "Someone came to me and said they wanted me to have a building where we wouldn't have to move around," said Jeff Smith, the manager of the Greater Chehalis Food Bank. "It's kind of snowballed into this huge building that we have now."
Smith is the only paid employee in the coalition. All other workers are volunteers.
"The fire department sold us an acre of land for $5,000," said Smith. "Greater Chehalis Food Bank put in $17,000, the Lewis County Coalition put in $50,000 and everything else is donated."
"There are nine major food banks in Lewis County," Smith said. "They are all separate, but part of the Lewis County Food Bank Coalition. The coalition is in two-thirds of the building and the other food banks come here to get their food."
Food comes through Northwest Harvest, Food Lifeline, and food buying services. They also get donations from local stores and individuals.
"Anyone in our area can come and get food," Smith said. "There are no requirements as far as income. The only thing we require is that you live in our area." Each of the food banks has its own area. Basically, they follow school boundaries. The Greater Chehalis Food Bank serves Chehalis, Napavine, Adna and Boistfort.
If someone from outside the Chehalis area asks for food, they will receive a box of food and directed to the correct food bank. If they come again, they will receive is a bag of rice and a bag of beans.
A requirement for food bank clients is to give their name, address, and the number of household members in their family or group when they sign in. They are allotted food boxes according to the number of people they are feeding: one box for 1-3 people, two boxes for 3-5 people and so on.
Recently the government added rescue boxes that can be picked up any Friday during the month when food is low. Usually, the box contains milk, ten pounds of potatoes, a bag of onions, butter, cheese and meat.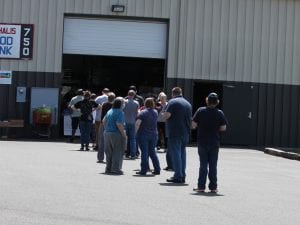 Everyone used to come into the waiting room to fill out their personal information and wait for their turn to receive a box. Now with COVID-19 as a silent visitor, all information is taken by a volunteer and the clients wait outside.
"We deal with a lot of elderly and we try to keep things safe for them. They don't come inside anymore," Smith said.
The first month of restrictions due to the virus, the number of families using the food bank shot up by 40 or 50 percent, but then it went back to normal. The average number of households served per month is 400 individuals.
"It would be great to be back to normal, but I don't know if we'll ever be back to normal again," Smith said. "We will have to do things differently for a while."
Volunteering at a food bank is a rewarding experience as you listen to clients greet each other like old friends, but sometimes it can break your heart. Smith remembers a woman who came in with her children. While she was filling out the form, her daughter looked up at her and said, "Oh Mom, now we get to have food!"
"All my worries and all my problems went right out the window," Smith said. "That's why I do this."
Locations and Times of Lewis County Food Banks
Lewis County Food Bank Coalition
360-330-1519
750 SW 21st Street
Chehalis
Greater Chehalis Food Bank
360-748-1226
750 SW 21st Street (behind the District #6 Fire Dept.)
Chehalis
Open every Friday from 12:30 to 3:00 p.m.
The Salvation Army
360-736-4339
303 N. Gold Street
Centralia
Open Tuesdays from 10:00 a.m. to 12:00 p.m. and Fridays 1:00 to 3:00 p.m.  
Pe Ell Food Bank   
360-291-3434
417 Main Street
St. Joseph's Catholic Church
Pe Ell
Open fourth Wednesday of the month
Somma Food Bank
360-985-7211
144 Wilcox Rd.
Salkum
Serves people in Mossyrock, Cinebar, Silver Creek and Onalaska
Open Wednesdays from 9:00 a.m. to 12:00 p.m.
Toledo Food Bank
360-264-5505
224 Sussex Ave.
Toledo
Open Tuesdays and Thursdays from 9:00 to 11:00 a.m.
Winlock Vader Food Bank
360-785-6399
503 N.E. 1st St.
Winlock
Open Wednesdays 11:00 a.m. to 2:00 p.m. and 4:00 to 7:00 p.m.
White Pass Food Bank
360-497-7457
116 Kindle Rd.
Randle
Open the 1st and 3rd Friday of the month; 9:00 to 11:00 a.m.