Submitted by David Faro
The novelist D. Randall Faro is known in Lewis County as "Pastor Randy."  He preached at St John's Lutheran Church in Chehalis for ten years before he retired in 2013. In the early 2000s, Faro and his wife Betsy, moved to Chehalis from Canada to live near their daughter and her husband. They were starting up a family and building up a local veterinary clinic in town. Faro remembers his time in Lewis county as, "…great years, where we were surrounded by a terrific community of people."
In 2006 the Faro's lost their oldest daughter to a fatal mountain climbing accident while she was visiting Canada. "Many people wrapped their arms around us during a really difficult time," said Faro's wife Betsy. "We will always remember the way people responded in Lewis County to Jeniffer's death."
Before becoming a minister, Faro was a Lieutenant in the United States Marine Corps and served in Vietnam from 1968 to 1969.  "In country, I saw things that I have spent the rest of my life trying to reconcile," Faro says. "There is absolute evil in the world, I am sure of this, and I have always wondered how to fight it. For decades I chose the pulpit. Three years ago, I thought I would try something different."
That is when Faro built a shack in his backyard up on the hill behind the high school, locked himself in, and started writing. He came out twelve months later, with a draft of his first novel, Bazo: An Epic Saga Novel, and asked his family to help get it out to the public. After forty years as a Lutheran pastor, Olympia author D. Randall Faro decided that he had to say something about human trafficking.
"It takes a team to publish a book if you are serious about putting out the best effort possible," Faro says.  After writing, he put the initial manuscript through multiple readers and editors. Both of his sisters edited the initial drafts more than once. One has a graduate degree in library science. The other is a renowned professional storyteller who has performed internationally for decades. "They didn't pull any punches," he says. "I received drafts back with a lot of red ink on them. The book is tight, in large part because of their combined expertise and candid commentary."
Faro's son designed the book cover, formatted the manuscript for publication, and brought it to market. "That was a crazy process on its own," Faro said. "It's harder than most people would imagine. It took months."
Bazo is not a book for the squeamish. It is a marathon tale that starts in the 1930s and winds its way through the last seven decades of American history. It is a novel that finds the protagonist Jedidiah Bazo surviving a disrupted childhood in Africa, a war in Southeast Asia, and plotting a course through the social unrest of the 1960s. The story concludes on the seedy streets of Seattle where Bazo is confronted by evil he knows he can stop – if he makes certain choices. Some are more difficult than others.
Bazo is not just an action novel. It explores philosophical questions that pit good and evil against each other on the basest of levels. When is it okay to be a vigilante? When is it okay to use violence as a means to stop bad things from happening? Does a strong man have a responsibility to help the weak? To make matters even more complicated, and without giving anything away, Faro's main character considers himself a man of God. This, and a lifetime of being trained for violent action, creates a contrast that Bazo navigates throughout the entirety of the book.
Weaving a good tale obviously runs in the family. Faro is a consummate storyteller. Every detail of his novel was meticulously examined and confirmed. "If I name a street in a small village in North Vietnam? It exists on the map in reality," he says. "If I mention a pub in Indiana?" You can go there and have a drink today."
"I wanted the novel to be as real as possible. Jed is a larger than life character for sure, but people like him do exist. I have met a few of them in my travels. I wanted Jed's extraordinary character to be surrounded by as real an environment as I could possibly conjure. I wanted the book to be ultimately believable. It took me as long to research and plan the novel as it did for me to write it. For me to feel like I had written a book I would want to read, that was an important part of the process."
Readers across the country have given the novel rave assessments. Bazo has been praised by award-winning authors and creative writing professors alike. Ordinary readers and book lovers have written to Faro to share that it had a powerful impact on them. A short examination of Faro's Amazon review page shows comments that commend the writing style, the story, and refer to it as a "page-turner" that many claims they, "simply could not put down."
"Above all," Faro says, "I wanted to write a rip-snortin' story. Now, I just want people to read it and tell me what they think."
If you would like to read Bazo: An Epic Saga Novel, it can be ordered on Amazon. For more information on D. Randall Faro and to subscribe to his blog, visit www.beartrackspress.com.
If you would like to find out more about the incredible life of Jedidiah Bazo and how he came to lead a one-man war against human traffickers, visit Amazon, and get ready for a wild ride.
About the Author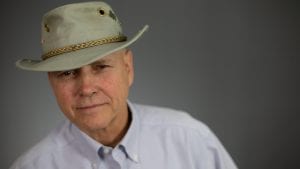 Randall Faro is a theologian and philosopher. Across North America, Faro is known as a thought leader and champion for issues surrounding social justice. Faro has been published in multiple newspapers and academic journals. His first fiction novel, Bazo: An Epic Saga Story, has received rave reviews from readers and award-winning authors alike. Faro is a veteran of the Vietnam war and has spent a lifetime trying to find a balance between peaceful nonviolent actions for justice and finding solutions using "the Marine Corps way."
What People are Saying
"I loved this book so much. It's what I would call a 'maximalist' book (as opposed to "minimalism") where the writer cares about everything– action, destiny, regret, history, contemplation, the soul. It is both thoughtful and a thriller. A great book."
Rebecca Lee, Author
Believer Book Award -Bobcat and Other Stories –
Associate Professor of Creative Writing, University of North Carolina
Contact Details