After two and a half months of staying home, keeping a distance of at least six feet from each other and wearing face masks in public, Lewis County has become familiar with the signs of a pandemic. Not everyone is wearing face masks however, either from choice or from availability.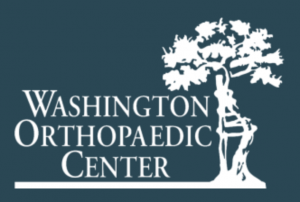 A devoted group of home sewists is working to change that by sewing stacks of face masks free for the taking. Callie Carpenter and her mother, Susy, were two of the first to see a need and find a way to fill it.
A relative on the Providence Hospital board asked Susy if she could make masks for the hospital as soon as possible. She knew Susy was involved in tons of sewing groups and knew of no one who could sew as well as she did. "Of course, no problem," was Susy's response.
An agreement with a manufacturing company eliminated Providence's need for home sewers, but a group of around 500 seamstresses had already joined the Lewis County Mask Sewing Group on Facebook. "We saw a need and decided to keep sewing for our local community," Callie said. "As a smaller county, it wasn't easy to get face masks at first."
One of those who took the challenge to make face masks was Kirsten Klein. For the past two and a half months, she and her husband have secluded themselves in their mountain cabin and cut and sewn face masks on their large kitchen table.
Her husband hand sews metal nose pieces he designed for masks using Kevlar thread and she is making masks in bulk, between 50 and 100 at a time. "It's more efficient that way, but it can also be more boring," Kirsten says. "We're binge-watching Netflix." By the first of June, Kirsten had made over 1,400 face masks.
Kirsten mails finished masks to Callie who has set up an efficient organization for distribution. She gets the fabric, has volunteers cut out pattern pieces and puts them together in kits. Seamstresses pick up kits at a drop box on the porch at Shakespeare & Company: Coffee and Used Books in Chehalis and assemble the masks. The finished item then goes back into the box.
Finding supplies for making face masks quickly became a problem as stores such as Walmart ran out of fabric, interfacing and elastic. Callie drove up and down the freeway looking for dollar stores with headbands, ribbons and cotton jersey sheet sets that could be cut into strips. Medical workers especially appreciated soft jersey strips because regular elastic can be hard on ears.
The seamstresses found creative ways of making their masks unique. Kirsten was asked to make some fun masks for a gift basket. She made masks with UW, Huskies, and Seahawks symbols as well as for birthdays, cancer survivors and other special events. A company she knows will make fabric based on your design and W.F. West High School can make 3-D respirators for masks.
Kirsten went into a store and saw someone wearing one of her face coverings. "I hate to say it, but it made me cry," she says.
Tears are a common response. Callie was coming out of Walmart when she saw an older woman without a face mask struggling to load her car. Callie went up to her and asked if she would like a face mask. The woman began to cry. "I don't know how to make them," she said. "Thank you so much."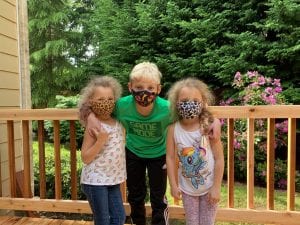 Knowing you need one and finding an effective face mask can be a challenge. For home sewers, Joann's Fabric has several online face mask patterns including children's sizes and a denim mask for those manly men. You can even design your own.
Finished masks are available at Shakespeare & Company and the Centralia – Chehalis Chamber of Commerce. Centralia College requested masks to protect summer quarter students coming soon and Cascade Mental Health ordered 600 masks now that Phase 2 opens up face-to-face appointments.
Face masks are not going away any time soon. There is still a lot of uncertainty about COVID-19 and how it will affect us in the future.
"I've heard a lot of controversy about what face masks can and cannot do," Callie said. "If there's a way to help and you don't help and someone gets hurt…well, I just think it's best to be over-cautious. Just to be sure we're doing what we can to help other people."
One of the good things Callie sees about the pandemic is that she has come to know women she had never known before. Almost daily she talks over Facebook with Kirsten. The two have never met in person. "But I feel I have," Callie said. "She sent me a picture, so I know what she looks like."
"We do this because we really like to help," added Kirsten. Soon she will be taking a break to help senior citizens with their taxes. "And everyone will probably have to wear a mask."
With more space, those who have donated their time and effort could be honored, but the list is too long.
"The ladies cranking out all the masks are the ones who deserve all the credit," Callie said. "I think they are all heroes."