If you've ever considered stopping smoking, chewing or vaping, now is the perfect time to quit. With many people concerned about their health at this time, kicking nicotine is one of the best things you can do to ensure optimum wellbeing. To help people understand the harsh consequences of smoking and nicotine, the Centers for Disease Control and Prevention continue the Tips From Former Smokers (Tips) campaign.
We've all seen the CDC's graphic commercials with real people living with the effects of smoking.
The message is clear – smoking causes long-term and horrifying consequences. While it's known that smoking causes death, the stark reality is that for every person who dies because of smoking, at least 30 people live with a serious smoking-related illness.
Launched in 2012, Tips campaign highlights real stories of people facing life with a disability because of smoking or secondhand exposure. The ads are remarkably successful with an estimated 16.4 million people who smoke attempting to quit and an astonishing one million quitting successfully because of the campaign.
There's Christine who started smoking at 16 and at age 44, an oral cancer diagnosis and repeated battles resulted in the removal of half of her jaw. Leah and her son Asaad share their story after she was diagnosed with colorectal cancer from smoking causing Asaad to put his life on hold at 19 to become his mom's caregiver. Forty-year smoker Michael lies awake with regret of all he lost after developing COPD and becoming reliant on supplemental oxygen.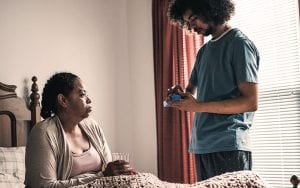 The powerful stories are thought-provoking and a stark reminder of what can happen to you and your family from real people living with daily struggles because of smoking. In Lewis County, one out of every four adults (25 percent) smokes. This is higher than the state rate of 17 percent and the nation at 19 percent.
The goal of the campaign is threefold – Build public awareness of the health damages of smoking, invite smokers to quit while offering free help and encourage smokers not to smoke around others or nonsmokers to protect themselves and their families from secondhand exposure.
Health Damages of Smoking
According to the CDC, smoking leads to disease and disability and harms nearly every organ system of the body. It is the leading cause of preventable death. There are many health issues associated with or made worse by smoking (or exposure to secondhand smoke) like cancer, heart disease and stroke. Smokers are more likely to develop COPD or asthma. Smoking also aggravates chronic conditions like diabetes, gum disease and even mental health conditions like depression and anxiety.
How to Quit Successfully 
Nicotine is an addictive substance, making quitting hard. While some people can give up smoking "cold-turkey" often people need a plan and support. There are treatments proven to be effective such as guidance from your doctor, counseling, behavioral therapies, medications and using nicotine replacement products.
It often takes more than one attempt to successfully give up nicotine products. Finding the right method or combination of methods increases your chances of stopping for good. View it as a goal that is positive for not only your health, yet also as a way to keep your family safe. Plus, consider the cost savings and what you can do with that money!
Where to Get Help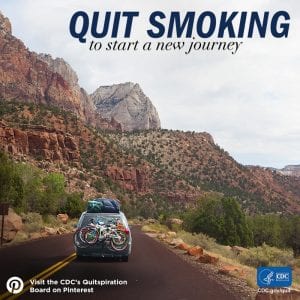 If you need help, free assistance is available by calling 1-800-QUIT-NOW or by visiting How to Quit Smoking. For Spanish speakers, call 1-855-DÉJELO-YA (1-855-335-3569) or explore ¡Estoy listo para dejar de fumar!.
While in-person help from a medical professional or over the phone works for many, 83 percent of smokers prefer an app program over coaching via telephone. 2Morrow Tobacco Cessation program is a digital resource for those who want help right in the palm of their hands through their smartphone or tablet to quit. The affordable program uses a cognitive behavioral therapy approach that teaches new ways to manage urges. The program is not only convenient and easy to use, but its effectiveness is also proven in clinical trials.
2Morrow also offers other health programs. One is specifically designed for teens and young adults who are ready to quit vaping and another helps unborn babies by assisting pregnant moms to quit smoking, vaping or using other forms of tobacco.
The apps are free if you sign up through the Washington State Department of Health.
Keeping Your Family Safe
Beyond the horrible health issues caused when someone smokes, secondhand smoke poses risks to others as well. According to the CDC, secondhand smoke exposure contributes to approximately 41,000 deaths among nonsmoking adults and 400 deaths in infants each year. Because they are smaller, the effects of secondhand smoke are even more profound in kids. Keeping homes and automobiles smoke-free is the best defense in protecting your family, while also avoiding public places where people smoke.
Smoking comes with a high price and not just from the direct cost. The illnesses and deaths related to smoking are real and quitting not only reduces the risk of heart disease, cancer, lung disease and a litany of other health problems, it also helps save the heartache of looking back and wishing you made a better choice.
Sponsored