Submitted by Twin Transit
On March 27, Twin Transit donated $10,000 to the Centralia Chehalis Chamber of Commerce to supply local first responders with personal protective equipment during the COVID-19 outbreak.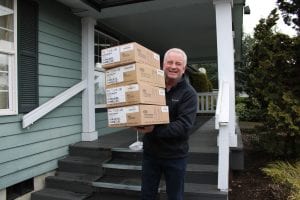 The Chamber is partnering with Lewis County Public Works, Division of Emergency Management to gather supplies for local first responders, including hospitals, fire districts, government facilities, police and care clinics in our area. They even donated masks and other supplies to protect Twin Transit drivers as they serve our community on route or during senior meal deliveries.
Keeping first responders healthy during this time is essential. You can help by donating money and supplies. Check your closets for spare supplies and spread the word. Together, we can help our friends in the medical field stay safe as they serve our community.
For more information, contact the Chamber at 360-748-8885 or email thechamber@chamberway.com.
Urgent Supplies Needed for Local First Responders
• N-95 Masks
• Respirator Masks
• Dust Masks/Facial Masks of any kind
• Masks w/ Eye Protection
• Hand Sanitizer
• Antibacterial Hand Soap
• Bleach Wipes
• Liquid Bleach
• Disposable Personal Protective Gowns
• Tyveck Suits
• Bouffant Head Protective Caps
• Disposable Foot Covers/Booties
• Disposable Stethoscopes
• Eye Protection/Safety Glasses
• Face Shields
• Nitrile Gloves- All sizes
• I-V Solution-NACL.9 500ml bags
• Paper Towels
• Toilet Paper
• Bottled Water