Bundle up the family, grab to-go cups of hot cocoa and hit the road for the magic of Christmas light displays in Winlock. It just wouldn't be Christmas time without twinkling lights. Bulbs blinking red and green or classic white are a part of the holidays that inspires yuletide cheer.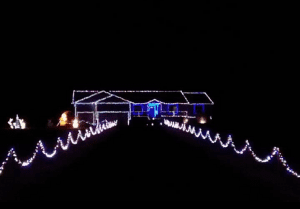 For an amazing holiday light show that includes a synchronized song-and-dance extravaganza check out Parsons Light-O-Rama Light Show. Tune the car's radio to 88.7 FM and hear the music that corresponds with the moving light display. It takes over an hour per song to set up and a week to get both the stagnant lights on the house and the Light-O-Rama hung. Drive-by this outstanding display at 197 Awmiller Road in Winlock Sunday to Thursday from 4:30 to 9:30 p.m. and Friday and Saturday from 4:30 to 10:30 p.m. starting Thanksgiving weekend.
Mike Blomgren and Kathy Tiernan's charming home light display on Tennessee Road is a decade long effort. Mike enjoys creating the display that takes a week to put together. The Christmas spirit is alive in this fun and colorful work of art.
The World's Largest Egg downtown is always fun, but the iconic landmark is made festive with the lighted Christmas tree nearby.