Bundle up the family, grab to-go cups of hot cocoa and hit the road for the magic of Christmas light displays in East Lewis County. It just wouldn't be Christmas time without twinkling lights. Bulbs blinking red and green or classic white are a part of the holidays that inspires yuletide cheer.

Gust Backstrom Park features a dazzling display of lights in the park starting December 7 as part of East Lewis County Christmas in the Mountains Celebration. Part of that celebration includes the annual Mineral Residential Decorating Contest. This Mineral Lake Lyons Club event is for residents to have their outside decorations judged. Winners are announced at the Mineral Olde Town Christmas Event on December 14 but everyone passing by can enjoy the efforts of the residents in the area.
Head further east to see the Blessings from Ben star and message of share the love on the hill above Randle on Peters Road. This special display is in memory of Ben Eastman.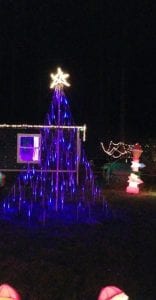 The Packwood Improvement Club encourages the holiday spirit with Let's Light Up Packwood. Residents and business owners compete to see who creates the best light display. Most of the businesses in town decorate, as well as many homes of High Valley. Defending first place winners for two of the three years of the competition are Gene and Laurie Seiber. View their house's display including a blue waterfall feature, at Cowlitz View Drive and Maple Way. Other area displays include the corner of Canon and Sunstone Road. Local businesses such as the Chevron and Packwood Spirits are also part of the light fight. Winners are judged on December 18 and entry forms available at Blanton's Market and Packwood Spirits.
The winter light traditions of Lewis County communities brighten the dark nights of winter and the spirits of all who set their eyes on them. The efforts of those homeowners whose homes are awash in holiday cheer despite bitter cold and tangled lights, pushing the limits of creativity to share the best and brightest light displays do not go unappreciated.