Malala Yousafzai said, "One child, one teacher, one pen and one book can change the world." One person wrote a book, one teacher read it to her class and one child from Doty is impacting the lives of other kids with change. Jayden Nelson at just ten years old makes a positive impact as a change maker.
Jayden was in the second grade at Pe Ell Elementary when her teacher, Mrs. Peterson read her class the book "Change Makers" by Libby Martinez. "It was a book about people making a difference in their community," says Jayden. "I went home after school and told my mom that's what I wanted to do." Jayden started with donating all of her birthday money, a total of $100 to Mary Bridge Children's Hospital.
She didn't stop there. She hosted a paint and sip, made jewelry, had a lemonade stand, bake sale, apple cider stand, as well as countless other fundraisers. Her favorite fundraiser was a toy drive. Jayden and the community raised $1,400. She was thrilled to go shopping and pick out all kinds of gifts for the kids at Mary Bridge.
A girl on a mission, Jayden is always coming up with new ideas on how to raise money. With the help of her Mom, Eddi Nelson, Jayden went to local stores asking to leave change jars for people to put loose change in. That is how change for change was created. "Mail Plus has been a huge supporter of Jayden and continues to have a change for change jar at their counter," says Eddi. Her campaign brought in over $800.
Jayden's hard work and kind heart have not gone unnoticed. She received the 2018 Youth Hero Award. She had the honor of throwing out the first pitch at a Mariner's game. This year she was asked to light the holiday tree at the capitol on December 6, where she hopes to meet the governor. Jayden was also a super kid and was featured on Warm 106.9 Kids in Cars Cruising for Kudos.  Most kids would have taken the $300 prize money and bought themselves a well-deserved toy. Not Jayden, this fierce fifth-grader donated the entire prize money to Mary Bridge.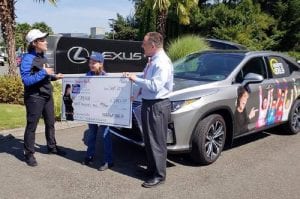 Her ultimate dream is to be on the Ellen Show and play the gold digger machine. Guests on the show get 30 seconds in a booth full of money.  "I could raise so much money for Mary Bridge if I could play that game!" Jayden says.
Her current fundraiser is Nickels for Noah. Noah Markstrom and his family are from Centralia. Jayden met Noah and his family at the annual spaghetti fundraiser for Mary Bridge. Unfortunately, Noah passed away recently at just six years old. "I really wanted to do something to honor him," says Jayden. "That's when we came up with Nickels for Noah." Any change collected will be donated to Mary Bridge in honor of Noah and his family. Jayden is willing to pick up any donations from community members. Money in any form is greatly appreciated – it doesn't just have to be nickels.
If you would like to donate to Nickels for Noah or would like to know more about how you can help Jayden, visit her changemaker's Facebook page for more details. Jayden's raised $4499.25 of her $5000 goal.  She will far exceed this amount because she is unstoppable. Her enthusiasm to help others is contagious.
It doesn't matter how old you are, where you live or how much money you make. Jayden wants everyone to realize they can be a change maker.  If this little spitfire from Doty can make such a huge impact, anyone can. Be inspired, find what you are passionate about and go out and be the change – like young Jayden.