It's that time of year again – time to bust out the holiday decorations and start selecting gifts for your loved ones. This season, the Centralia-Chehalis Chamber of Commerce invites everyone to Choose Local First. To make it even easier, the Chamber is providing their annual Choose Local First Survival Bags. Pick yours up at the Chamber on Wednesday, November 27th from 5 p.m. until they're gone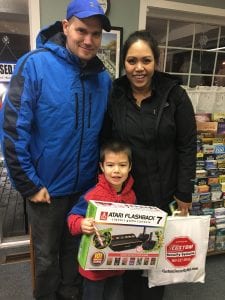 These bags are stuffed to the brim with fun goodies and discounts. "Last year, we had 60 different businesses," says Alicia Bull, Executive Director of the Centralia-Chehalis Chamber of Commerce. "There's coupons, goodies, water bottles and more. It's a great opportunity to market to the local community." This year the bags include discounts like 20 percent off and "buy one, get one free" coupons at local merchants. A lot of these discounts are exclusive.
And that's just the beginning. A selection of large prizes are tucked at random into some of the bags. "There are 25 to 30 significant things," Bull says. "And some are randomly given away to people standing in line." These include an overnight stay at Holiday Inn Express, free pizzas, gift cards to local restaurants and more. Plus Rainier Connect gives away a great tech gift every year.
The Chamber Board of Directors will be on hand to distribute the bags. "We decided to do it Wednesday night so that people have the information on the coupons and sales prior to Thanksgiving," says Bull. "Some stores have specials on Thanksgiving night and people are already shopping, so we thought it was best to get them in people's hands as quickly as possible. Our board members want to be with their families too. It's good for them and the local retailers."
The line gets long for these popular bags so be sure to get there early. "Last year, it took 17 minutes," Bull remembers. "Everyone in line got a bag but a few people showed up a little later and didn't get a bag. People were lining up at noon last year." The bags are limited to the first 250 people.
And it's not just waiting in line – this family-friendly event has something for all ages. Bags are given to those 13 and older, but Dutch Brothers will be there with free hot cocoa, and Good Health Nutrition Center, The Chronicle and Walter Cuestas – Century 21 will have goodies and prizes for kids.
The event is all about choosing to shop local first. "We want to get people to choose local first, not just shopping but services as well," says Bull. "Buy a gift certificate for a local massage, use a local bank or accountant, and other services – not just goods."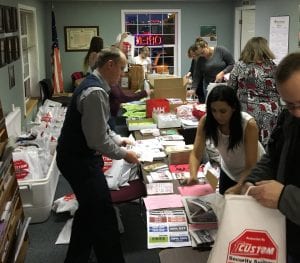 Online shopping may seem like the best deals, but that's not always the case. "The fees and different things that happen when you shop online sometimes outweigh the cost difference," Bull says. "If you have an issue, you can't return or it's not easy online. There can be no one on the other end for your customer service needs. You don't really know what you're getting. It's a hassle." And a hassle isn't a good gift.
Shopping out-of-town isn't always the most cost-effective either. The time and gas to drive often diminishes any discounts. "It's not as good of a deal as you might think if you add it up," says Bull. "It's easy to change a few habits with consideration for the local economy."
The sales tax rate in Lewis County is lower than in other areas, saving consumers money. And the tax income is used to fund services for everything from roads and parks to police and transit. Now that's a gift that keeps on giving.
Local shopping strengthens our great community. When you shop local for goods and services, business owners are truly happy to see you. They value your business and want you to come back. And their product expertise is unmatched at larger box stores. They're the first to give back to the community and donate to local nonprofits, events and youth sports teams.
Local businesses shape the character and personality of the area, and independent stores offer items that can't be found elsewhere. Plus, the experience of shopping local is far more relaxing and enjoyable than fighting crowds at big stores and malls.
There are countless reasons to choose local when shopping this holiday season, and year-round. Small Business Saturday and The Centralia-Chehalis Chamber of Commerce free Choose Local First Survival Bags bring awareness to the value of small businesses working to build a more self-reliant and vibrant Lewis County. Do yourself and the community a favor this year by shifting spending to local merchants, service providers, restaurants and artisans. It will make the season brighter for all.
Centralia-Chehalis Chamber of Commerce
500 NW Chamber of Commerce Way
Chehalis
360-748-8885
TheChamber@ChamberWay.com