In 1969 Bruce and Barbarann Barkis stumbled upon Lewis and Clark State Park. They had recently moved to Washington from Texas with their young family. The stunning pines and captivating mountain views were a magical change of scenery. The beauty found at  Lewis and Clark State Park was the epitome of the great treasures of Washington to them. They started an annual tradition of gathering at the park to reconnect with family. In August of 2019, they celebrated their 50th Barkis Family Lewis and Clark BBQ.
"Families need traditions." daughter Cecile Barkis said. "They need to have time when they get together to reconnect." The Barkis Family grew to include five brothers and three sisters. Additional brothers and sisters were added by marriage over time. Visiting grandparents always made an appearance. Then new babies started popping up year after year. The current count includes 23 grandchildren and 11 great-grandchildren. "We never really knew how many people were going to show up," said daughter Kathleen Barkis.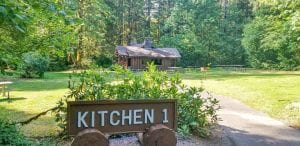 Barbarann, or just Mom, was the head of organizing the event. It started with calling Lewis and Clark Park to reserve "Kitchen 1" and paying the reservation fee. The event always happens close to Labor Day weekend. She loved getting on the phone to reconnect with family and friends from all over.
The potluck menu was made up of traditional BBQ staples such as potato salad. With a few extra special touches that are unique to the Barkis Family, such as sister Teres's Nona Beans. "They are like refried beans, but more special," said Kathleen. A traditional BBQ sauce was made up by mom. Bruce, or just Dad, used it to season the grilled goodies. There was also always a traditional "goop" much like the one that can be found at a popular burger stand in Olympia.  "We made goop before there was goop!" Cecile said.
Dad oversaw the grill and raised his sons and son-in-laws up in his preferred barbequing methods. When he was old enough that he couldn't be "Chief BBQ" anymore they were able to take over. The years of training paid off and they were able to keep things running the same as Dad had always done.
"When the kids would get there, they would just take off because they knew what they liked to do," said Kathleen. There were plenty of ways to spend the day with games of horseshoe, Frisbee, Batchee ball and bean bags. They also used some wooden rocking horses that were popular with the young children. Besides field games, Lewis and Clark Park offered plenty of walking trails to explore. What started as a one-day event stretched into an overnight camping trip for some of the family.
About six years ago the Barkis Family decided to add another element to their traditions at Lewis and Clark Park. "Our boy scout troop has adopted the park," said son Andrew Barkis."The troop arrives a week prior to the park opening each year to clean and beautify the park." This means volunteering to rake, weed, and fix trails. "As a state legislator, it is important to me to ensure parks like Lewis and Clark remain available for generations to come so other families, like ours, can create lasting family memories," said Andrew. The whole family shares his generous feelings towards the park, "We give back to the park because it has given so much to us," said Kathleen.
Every year the family grows a little bigger and schedules get a little fuller, but the annual tradition of reconnecting at Lewis and Clark Park still gets put on the calendar. "We all make sure we are there," said Kathleen. It provides the perfect opportunity to document family growth with a group picture. Just after dinner, when everyone has full bellies of BBQ and full hearts of family, they gather to take a group photo around the fireplace. "We weren't sure if we were going to keep having it after the 50th," said Cecile. "But we decided no matter what we are going to keep having it until we can't do it anymore."