On most Saturdays, the yard outside Nate and Krista Bartlow's home on Coal Creek Road in rural Chehalis is filled with vehicles of people eager to buy or sell poultry and other miscellaneous items. They gather at the Coal Creek Poultry Auction because it is one of the few remaining auctions in the area. It is also a cheap and fun form of entertainment. 
"Auctions are dying," Nate said, but it is in his blood. His father, Bruce, and grandfather, Ernie, took him to auctions throughout the Northwest when he was just a boy. He loved walking on the catwalks above the pens and checking out the cattle at the Enumclaw and Twin City auctions while his father and grandfather were busy bidding and swapping stories with the other old-timers.
Now the auction site is no more. Other auctions have met a similar fate. An auction in Yelm was turned into a Walmart. Nate started an auction in 2010 based on the style of the old Twin City Sale Barn.
Before he went into the auction business, Nate served 23 years in the military. Now he is retired, and the auction is his "weekend hobby," he says. He also raises sheep and cattle. Krista, his wife, works as the legal counsel for the Skokomish tribe in Sequim during the week and is fully involved in the business on the weekends.
"I knew the Bartlow family for a long time before I married their son," she said. Ironically, it was not an auction but a bowling ball that brought them together. "We met in the Tacoma bowling alley where our parents were in the same bowling league," Krista said.
Several other family members work at the auction. In addition to his wife and their two children, a niece and a nephew help on the weekends along with Krista's brother. Nate's dad is still an active participant in the auction, since earning the right to his own chair at the back of the auction hall. A sign above it reads, "Warning: Bruce Bartlow (aka Old Fart) Parking Only."
The Bartlow's hire FFA members from local high schools trying to earn money for trips, fees and other experiences. They take on students who are working on community service hours for high school graduation requirements.
Auctions can make for very long days. Those selling miscellaneous items need to bring them into the auction on Fridays from 11:00 a.m. to 3:00 p.m. or Saturdays from 8:00 a.m. to 9:00 a.m. Eggs and poultry are brought in from 8:00 a.m. to 11:00 a.m. on Saturdays.
Poultry is placed in state-owned and approved cages. Both birds and cages are randomly inspected at least once a month to make sure the birds are healthy and don't spread contagious disease, especially the Avian bird flu.  "It only takes one bird to spread it," Nate said.
Buyers pick up a bidder number good for the day of the auction only. The ticket is their agreement that they will pay for any goods they have won by placing the highest bid. Make sure to tuck the ticket in a pocket or safe place to claim the items afterward.
The Bartlow's commission for selling animals is 28% and miscellaneous houseware or farm equipment is 35%. Payment for items sold will be on either the day of the sale, the next Friday between 11:00 a.m. and 3:00 p.m. or on Saturday from 8:00 a.m. and 3:00 p.m.
"Because it is an auction, we never know what we will be selling until it is brought in for consignment," Nate said. They may have pheasants, doves, chukars, parakeet, canaries love birds and cockatiels as well as turtles, rats, mice and snakes.
"We do not sell any hoven animals such as pigs, sheep, goats and calves," Nate said. Miscellaneous items for sale could include farm and gardening tools, hunting, camping and fishing equipment, and some antique and vintage items.
Pictures of what will be sold on the following Saturday are posted on the Bartlow's Facebook page. Jill Johnson, the office manager, takes great pride in keeping the information current with upcoming events and closures for holidays, weather and family emergencies.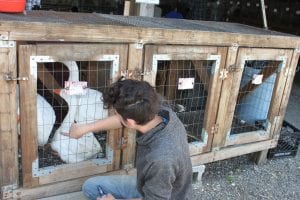 People come to the Bartlow's auction from as far away as Idaho and buyers from the Asian market in Seattle frequently attend. Between 100-150 people usually show up on Saturdays to see what is offered even though they may not buy or sell anything. It's more of a family event with whole families attending.
Nate's deep, rich voice is perfect for leading the bidding from his seat above the crowd, waving his cane first at one person then another as he acknowledges the bidders. "There's no jibber-jabber," he says comparing his style to the rapid-fire noise of other auctioneers. The bidding often goes on all day.
The regulars come faithfully every week, barring catastrophic events. On a recent Saturday, one of his regulars made his way slowly across the parking lot, stopping frequently to catch his breath. The man had a stroke three days earlier and still had managed to get out of the hospital to attend the auction. "If I'm not at the auction,'" he said. "I'm in the hospital or dead."