French artist Annette Messager said, "Being an artist means forever healing your own wounds and at the same time endlessly exposing them." For Susan Clark of Chehalis, creating henna art helped her process and heal after the death of her son Graham.
Henna is a time-honored tradition among various global cultures. Its intricate designs symbolize the passages of life or simply create beauty. Middle Eastern, Asian, and North African cultures use henna in celebrations and ceremony.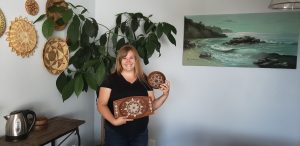 "Traditionally it's not used for mourning," Susan says. "It's used in celebratory things like weddings, births or, in the U.S. culture, it's used almost exclusively at festivals and birthday parties."
Susan was originally encouraged to try the art form by her aunt Kristy, who also does henna. At first, Susan felt putting art on people's bodies would be stressful. "I've loved art ever since I was little, and always knew I wanted to be an artist," she says. "After my son passed away, I was looking for a distraction."
Suno Henna became that healing outlet.
The idea of connecting with people in such an intimate way appealed to Susan. "I loved it," she says. "Everything about it – the connection, the smell, the history of it – all the types of designs the different cultures have."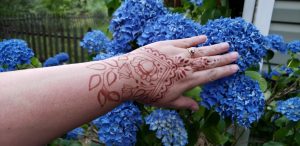 Different henna patterns are closely tied to place. The more geometric designs are from Morocco, created by the tools they use there. Paisley, swirls, and especially intricate images are from India. The more open designs with a lot of skin space and tight patterns in one area come from the Arabian Gulf. "That's one of my favorite styles," says Susan. "I incorporate Pacific Northwest flora because of where we live and it feels like it is more connected to us that way."
The aromatherapy of henna is an enchanting part of the experience. Susan uses calming lavender oil from Cowlitz Falls Lavender Farm in Randle to hand-make her own henna. She also adds spicy cardamom powder to the paste.
Getting a henna tattoo is often preferred over a traditional tattoo because it's neither painful nor permanent. Susan encourages those who have never experienced henna to be cautious of the types used by others and in stores – specifically black henna. The red henna she uses is natural and does not have preservatives so it must be kept cold. Henna sometimes found elsewhere or purchased in stores has PPD as a preservatives and can burn skin. "It's dangerous," she says. "I can't even be insured if I use it. It's really detrimental to me as an artist when people don't know the difference."
Intentionally connecting with others is one of Susan's favorite parts of henna body art. "Many times, if I am sitting and doing henna on someone, they will want to talk," she says. "It's a time of deeper connection with people as opposed to superficial meetings."
Some customers come to Susan for their own healing. "I love whoever comes and sits in my chair but I really love it when it's for scar cover-ups," she says. "Sometimes it's people who have done cutting before and they ask me to please make something beautiful out of it. I just want to give them a hug. Other times its surgical scars. The idea of giving them value and making them feel beautiful, I really love doing that."
While vending at a retreat for healing after the loss of a child, a woman came to Susan for her first henna experience. She felt safe at the retreat and in Susan's chair. Still healing from a traumatic childhood, she shared her story. "It was probably one of the most profound and impactful moments for me as a henna artist," Susan says.
Suno Henna is available for hire for parties and celebrations. Susan's henna booth is also at local festivals and markets like Chehalis Fest, Mossyrock Blueberry Festival, and Packwood Flea Market.
During winter months when people show less skin, Susan creates lovely home goods she sells on Etsy. The idea sparked because she wanted to keep up her henna practice. She first tried painting inside a bowl because it's rounded like arms and skin. Loving how it turned out, she decided to sell them.
"I can then make something for people who might not want the art on their body," she says. "And it gives me a great reason to go thrifting. I love the adventure. It's like recycling in a more fun way." Her beautiful wood pieces can be found locally at Bead Opus.
Even though pain brought her to henna, being a henna artist is a dream come true for Susan. "I get to be doing art and make a little money for my family doing what I love," she says. "That's the coolest part – the reality of the dream I had when I was seven; that I wanted to be an artist. I love that I get to draw and practice my skills, while being creative and incorporating different things, while having a foot in the traditional history of it."
If you have any questions about personal appointments, events or hosting a henna party, email sunohenna@outlook.com or contact Suno Henna via Instagram.
Sponsored