While the boss is away, the staff will play. Since Dr. Dolezal is out of town, the Innovations in EyeCare staff decided to throw a little party. The event is the perfect opportunity to have fun with the community while offering awesome deals on frames and lenses. The first-ever All Are Welcome Trunk Show is on Thursday, August 22 from 1:00 until 4:00 p.m.
The team is excited to bring this opportunity – and its amazing discounts and specials – to their conveniently located office just off the freeway in Centralia. Stop by during this special event for huge discounts on frame and lens packages for the entire family.
What exactly is a trunk show? The event features an experienced representative who brings a wide variety of options for kids, tweens, teens, and adults. You'll find new and distinctive eyewear at an affordable price, so bring the entire family.
Not a patient of Innovations in EyeCare? No problem. Simply bring your eye prescription from another doctor to take advantage of these awesome and exclusive deals. If you don't have an eye prescription, they can help you obtain one.
With back-to-school just around the corner, now is the time to prepare. Update your kids' glasses or get a back-up pair in case they lose the ones they have. This is an excellent opportunity to have your kids feeling, looking and performing their best on the first day of school. Eye problems hinder students' achievement by impacting class participation and reading. Impaired vision is a major barrier to their ability to successfully complete schoolwork and see instructions. It can also cause fatigue and headaches.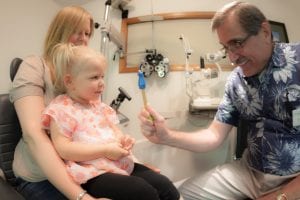 The All Are Welcome Trunk Show is also a great time to get new sports glasses just in time for season openers. Protective eyewear is as important as other gear like helmets and pads when participating in sports. In addition to safety, top athletic performance requires excellent visual acuity.
This fun event is about more than just glasses. With exciting door prizes and a coloring contest, it's a wonderful chance to win a great prize. Grab a snack and refreshments for an afternoon pick-me-up. Be sure to sign up for great raffle prizes including backpacks stuffed with school supplies. There is also a chance to win a frame package.
For kids with state insurance where frame options are limited, the Trunk Show is a great opportunity to get good looking eyewear at a lower cost. Kid's frame and lens packages start at just $70.
Find popular kid's lines that are also durable like Marie Claire and Jubilee. These come in cute styles with colorful frames. Casey's Cove, new and exciting line, will also be featured at the show. Also, find high-quality frames from Ernest Hemingway.
Adult frame and lens packages start at $85. Update your eyewear with a new fall frame. Find the perfect frames from lines like Dale Earnhardt Jr. and Joan Collins.
Even if you aren't in the market for new glasses, Innovations in EyeCare invites everyone to come in, say hi, and have a little fun.
Find a new and exciting look with Innovations in EyeCare's first All Are Welcome Trunk Show. With an assortment of multiple brands, this is a fantastic opportunity to view a variety of frames, try on different styles, and comparison shop with different discounted prices. This special one-day event offers a broader selection of eyeglass frames from favorite brands with exclusive discounts.
Since 1981, Dr. Dolezal and the staff with Innovations in EyeCare have been dedicated to helping Lewis County see clearly and look great. With a tradition of excellence in optometric care for nearly 40 years, Innovations in EyeCare's goal is to treat patients like family. They offer a high-quality, friendly service in a gentle, caring atmosphere.
Kick-off the new school year on the right foot, and let Innovations in EyeCare help your family find eyewear that matches your unique style.
Innovations in EyeCare
1125 Mellen St.
Centralia
360-736-7385
Sponsored