Dedicated to providing a comprehensive range of financial services to their family of members, Great NorthWest Federal Credit Union is growing with a purpose. Their newest branch recently opened inside the Chehalis Wal-Mart. "We're not growing just for the sake of growing," says President and CEO Doug Page. "We have a purpose in mind – helping members financially."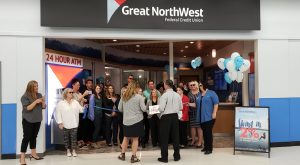 As the first new branch in 20 years, Lewis County is the perfect fit for Great NorthWest FCU. The demographics are very similar to what they serve in Grays Harbor and Pacific Counties. Originally opening in 1953 to serve Weyerhaeuser employees and their families, the credit union knows and understands the needs of rural residents.
"There's more to it than just expanding," adds Karla Peterson, Marketing and Community Development Specialist. "We want to make sure we are helping our membership and growing with the right expectations."
Great NorthWest FCU already had many members who live in and around Chehalis. "It's a thriving area that will continue to grow," says Page. "There are many new businesses coming and things look bright for the future of this area. We are excited to be a part of this community."
The newest members of the Centralia-Chehalis Chamber of Commerce, Great NorthWest FCU looks forward to participating in the local community. With a focus on helping people and an active, engaged staff, Great NorthWest FCU has a program called "Mad City Money" where staff members visit local high schools and teach kids the importance of budgeting. "In a simulated experience where the kids are given the responsibility of managing their own funds, you can see the light bulbs going off and kids realize what their parents go through when it comes to money management. By working with local schools, we want to give kids the tools they need for success," says Page.
By using their marketing budget to support the community and not just a piece of advertising, their dollars positively impact our local area. "Student-athletes, sponsorship for fairs, different festivals, fundraisers for nonprofits and those types of things help the community," Peterson says. "Those are the types of things that we like to actually put our marketing money into."
With a niche for smaller loans and accounts, Great NorthWest FCU is here to serve. As a complement to the banking options in our area, they look forward to setting up those same relationships locally.
"We are not out to take customers away from other banks or credit unions," says Kari Adams, Executive Vice President. "We have established great working relationships with other local financial institutions and are here to help all people. We will do those $500 loans and open those smaller accounts. We also refer out the bigger construction loans that we don't do."
"People helping people is a credit union-wide mantra but we have really adopted that," adds Peterson. "It's our basis in everything we do. We want to make sure to get the right products to the right people and, if we can do it for less, we want to do that."
Great NorthWest FCU offers many free services and prides itself on helping members do all they can with their money. Member-owned, Great NorthWest FCU offers lower interest rates on loans, and fewer fees and higher interest rates on CDs. "Anything we can do to give back to our membership," says Adams.
Anyone who lives, works or worships in Grays Harbor, Pacific, Mason, Lewis, or Wahkiakum Counties is eligible to open an account with Great NorthWest FCU. With the convenience of online account opening, new members don't need to visit a branch to open a new account. Share accounts only need a minimum of $5 to open.
Growing steadily each year, Great NorthWest FCU currently has a membership base of over 16,000 and $155 million in assets. With branch locations in Aberdeen, Raymond, Long Beach, Ocean Park and now Chehalis, Great NorthWest
FCU continues to grow – now in Lewis County.
Great NorthWest Federal Credit Union
1601 NW Louisiana Ave.
Chehalis
800-533-8396
Sponsored