Walt Disney said, "All our dreams can come true – if we have the courage to pursue them." Daisy Bower chased her dreams all the way to Florida with the Disney College Program. The opportunity allows students to participate in a paid internship at Walt Disney World Resort. With real-world experience, students build transferable skills such as problem-solving, teamwork, guest service, and effective communication.

Daisy grew up in Adna, graduating in 2017. "I think it's the cutest, perfect small town," she says. "It's a really good place to grow up that taught me how a community can be a family. I am very proud to be from a little town. I love when people ask where I'm from and I get to tell them about Adna."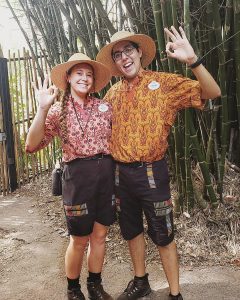 After high school, Daisy started attending Centralia College. Despite a passion for theater, a full sports schedule in high school kept her off the stage. In college, she could finally do both.
She also coached middle school volleyball for Napavine. "It was a lot of fun," she says. "I love the girls and it's nice to have a bunch of young girls be inspired by you."
She first applied for the Disney College Program her senior year in high school even though she was not yet eligible. "It's always been my dream," she says. When she was accepted, "I was most excited to find out I would be working attractions, which is where I wanted to be," she says.
Daisy works on Kali River Rapids at Disney's Animal Kingdom Theme Park, a thrilling whitewater adventure through a lush jungle set in the heart of Asia. She also helps with a show called UP! A Great Bird Adventure featuring some of the world's most exotic birds and characters from the movie.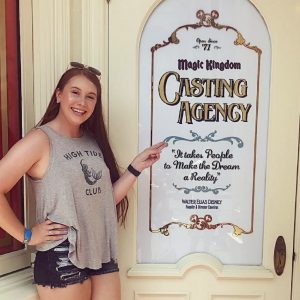 As a Cast Member, Daisy most enjoys helping create magic for families to more thoroughly enjoy their vacations. "At my attraction, we try to be efficient as possible so more people get to experience the ride," she says. "It's wonderful to see them ride for the first time or when they share that it's their favorite ride. The easiest thing I can do to create magic is to give out a FastPass so they don't have to wait in line as long."
A typical day for Daisy starts with a bus ride from the apartment she shares with her roommate. The living space is part of the program and rent is deducted from Daisy's paycheck. Transportation is also provided to and from work and to local shopping. Her shifts are six hours long. When it's over, she spends her time playing, often in the park with friends she's made from around the country and world.
"I wasn't expecting to love going to work as much as I do," she says. "I love my coworkers and how fast-paced my job is. I am never bored. It surprises me how many new things I am learning about Disney. It is so well run and there are so many jobs and people behind the scenes to make sure it runs safely and smoothly. You don't think about those people when you are on vacation."
Although she loves her job and the perks, missing home is the hardest part for Daisy. "I wish I could fly them all down," she says. "I call my boyfriend every day and talk with friends and family from home. Thank goodness for technology to FaceTime them and be able to see them whenever I need to. I wouldn't have been able to do this without that."
A cherished memory for Daisy was helping a family on a Make a Wish trip with their son. While loading them on the ride, the mother handed her a goodie bag. Inside was information on his condition and a thank you for helping with his wish. "I didn't expect that," she says. "I realized just how much it really means to kids to have fun with their families and experience the magic here."
When she returns home, Daisy will continue studying at Centralia College to earn her associate degree. Then she'll transfer to a four-year college to study theater. Her ultimate dream job would be to have a career with Disney that combines her love of theater and the company. She would love to be the stage manager of a theater production that Disney owns on Broadway.
Her experience at Disney has given Daisy unforgettable memories. "Whatever you put your mind to can happen," she says. "If you dream it, work hard, and know what you want, then all your dreams will come true."